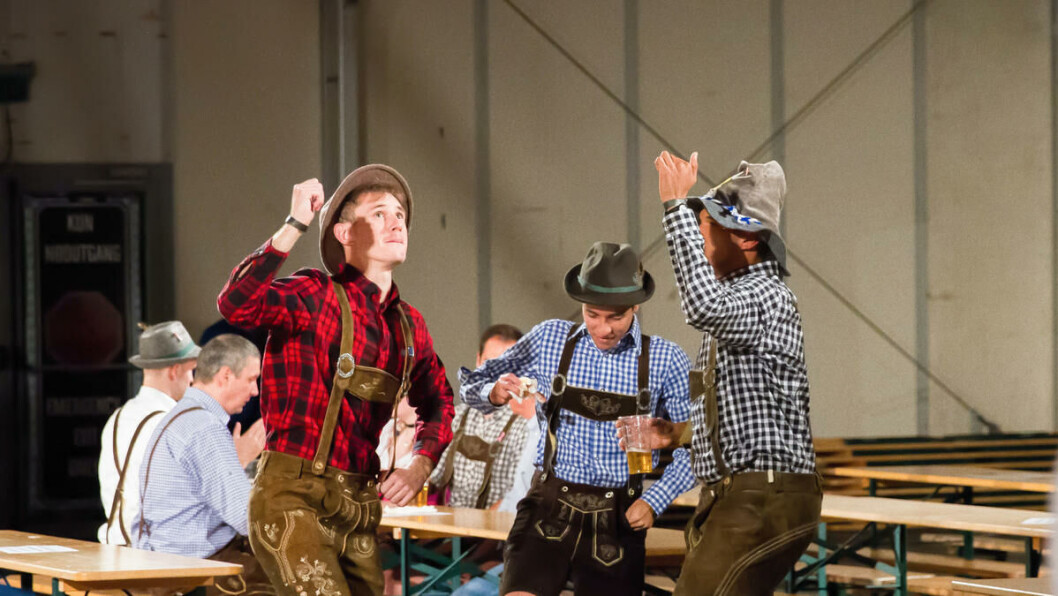 Chateau Neuf Oktoberfest cancelled – permanently
The yearly tradition with lederhosen, dirndls, bratwurst, and weissbier will no longer be held at Chateau Neuf.
André Titland, sales manager at Chateau Neuf, announced last week that Chateau neuf will no longer hold an Oktoberfest. Titland says the choice was made in order to use the resources for something else.
«Oktoberfest has been a huge drain on our resources in terms of both money and work. At the same time, we've gotten the impression that it is not a priority for students. That's why we decided to free up those resources,» Titland explained to Universitas.
The last Oktoberfest: happy students in lederhosen
«We had to make some changes»
Oktoberfest has been held at Chateau Neuf since 2001. The festival was always popular, and in 2016 was called «Norway's biggest Oktoberfest» by Chateau Neuf itself.
When asked what the resources could now be used for, Titland suggested they could be put toward semester start activities at the student house. He thinks the change will improve what the organization can offer to students.
«Sometimes one has to reprioritize. Chateau Neuf can't become the best it can be unless we reconsider sometimes and make some changes,» he said.
Titland added that the economic resources put toward the festival were not in proportion to how much was earned from it.
«It doesn't make sense for us to use so much time and money on something that isn't for students, and doesn't earn as much as it should.»
Bitter fight
In 2017 Chateau Neuf ended a bitter fight with a competing festival at Youngstorget. The Facebook page «Oktoberfest Oslo,» which had previously been used to promote the party at Chateau Neuf, was taken over by external promotors the student house had hired.
[It ended in a court case for control of the page, which Chateau Neuf won.](2)
Titland admitted to Universitas that the competing festival at Youngstorget was a factor in ending Oktoberfest.
«Oktoberfest as a concept peaked about 10 years ago. It's not as popular as it used to be, and it doesn't help that we had competition at Youngstorget,» he said.
Heine Strømme is sponsor and marketing chief of Oktoberfest Oslo, held at Youngstorget. He commented the cancellation of Oktoberfest at Chateau Neuf with a touch of irony.
«It is pretty strange that I worked with them for 10 years, without contributing anything according to them, but they end the event the year after I leave,» he said.
«Will this affect your event at all?»
«Not really. The only difference will be that maybe some people who might have gone to Chateau Neuf will come to use instead,» Strømme said.