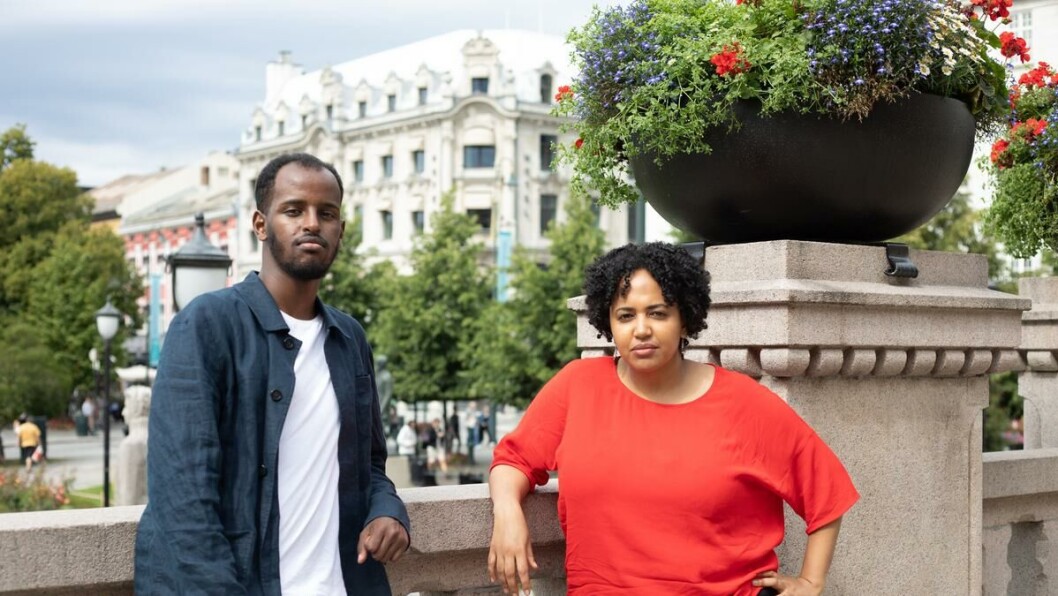 – The greatest social movements came from universities
The African Student Association contributed in organizing the Black Lives Matter-demonstration in Oslo. However, the fight against racism is long due, as they say.
African Student Association
A student union at the University of Oslo which engages with African culture, society and politics
Is meeting about 4 times a month
The Union is a meeting opportunity for primarily black students, but open for everyone
They organized the demonstration against racism on July 5th in Oslo together with 'Arise'
The day after the Afro-American George Floyd was killed, huge amounts of demonstrators took to the streets in many of the biggest cities in the USA. It took a long time until the student union, African Student Association (ASA), at the University of Oslo realized that they had to react.
On June 5th thousands of people took to the streets and kneeled in front of the Norwegian parliament to mark their support to ending racist police force in the USA.
– We were under extreme time pressure, says Mohamed Abdirahman Awil (21), the ASAs leader.
Much of the planning happened during the weekend of Pentecost (Whitsunday). Everything was slowed down. In addition, the global pandemic had to be taken into account. It was not helping with the organization that around 16.000 people signed up in the Facebook arrangement within the first day.
This is the story of Awil and Rahwa Tilahun Yohaness (29), both board members in ASA. They study political science and international studies respectively at the University of Oslo (UiO).
Social movements rooting in universities
The day we meet, it is exactly one year after the Al Noor mosque attack and the racist motivated killing of Johanne Zhangjia Ihle-Hansen in Norway.
– Many are thinking that racism is something we dealt with a long time ago, but in reality, we have never managed to resolve it properly, says Awil.
The demonstration in June was a marker of solidarity and support for victims of racism in the USA, but also a protest which proposes changes in Norway, he explains.
– We have never seen something like this before.
– Which role do you play, as a student organization, in the fight against racism?
– The biggest social movements resulted from universities, because it is more common for younger people to mobilize, says Awil.
– This is a question you could ask any student of African descent. If you study social sciences, for example, you quickly see that there is a great lack of representation and scientific thematization of non-western parts of the world, says Yohaness.
When I was growing up, I never saw professors or politicians, the people who talk about important issues, who looked like me
Mohamed Abdirahman Awil, UiO-student and leader of the African Student Association
– Why is representation so important?
– It is important to see oneself mirrored. When I was growing up, I never saw professors or politicians, the people who talk about important issues, who looked like me, says Awil.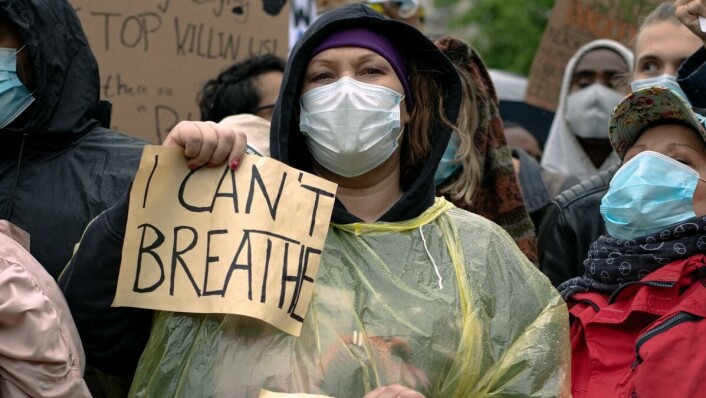 Need for change in Norway
– One of the things we are fighting for is a receipt scheme for patrolling police.
– Every time the police stops you on the street, you would receive a receipt for where, when and why you were stopped. Many young boys with a minority background are frequently stopped. Because of lacking proof, they cannot claim having been stopped 17 times, so Awil.
He himself experienced to be stopped multiple times, for example because he was standing in a suspicious manner, he tells.
Therefore, ASA has collected approximately 20.000 signatures as support for this cause. They delivered a letter together with 'OMOD' and 'Arise' to the Ministry of Justice, requiring that the scheme will be realized. In fact, the proposal has been through the parliament three times already, and in 2002 the decision was made to carry out a pilot project.
– It was sabotaged by the police union, because they felt monitored, says Yohaness.
– If we cannot trust the police, whom can we count on?
–No need to import American problems
Awil and Yohaness think racism is played down in Norway. Here, we are a little afraid to call somebody racist. It is almost as if we are fearing the r-word, says Yohaness.
– When we talk about racism, we are not talking about American racism, but about Norwegian racism. Everyone who lives in a dark or brown body recognizes this.
Awil explains how the debate has been criticized in the Norwegian media, and that the recurring theme has been that anti-racist movements in Norway import American problems.
– Such statements are simply reckless. Unfortunately, we do not need to 'import' American problems. We have enough in Norway, says Awil.
Yohaness points out Eugene Ejike Obiora, a Norwegian citizen with a Nigerian background, who died after being forcibly arrested by a Norwegian police officer in 2006.
Drawing lines to the assimilation politics in Norway
If someone does not acknowledge that there is racism in Norway, according to Awil and Yohaness, it will become clear through Norway's history. The assimilation policy aimed at the Sami population lasted until the 1950s.
– Forced assimilation of the Sami has left deep traces in today's Sami society, says Yohaness, and points out that discrimination against the Sami continues.
– Do you think that the fight against discrimination – for Sami, people of color and other forms of racism – is one and the same fight?
– This is a broad question. The fight against racism is a fight for everyone, however, there are different forms of racism. The demonstration on June 5th was specifically against anti-black racism, says Yohaness.
The fight against racism must mobilize the entire population, Yohaness believes. If not, there is just going to be one echo chamber.
The fight against racism is a fight for everyone, however, there are different forms of racism
Rahwa Tilahun Yohaness, board member in ASA
The statue debate was a slide
– This summer racism has been prominent topic in the Norwegian public. Is this a turning point?
– I would like that, but I do not experience it at all, says Awil.
– There are parliamentary representatives who still believe that there is no Norwegian racism, that it is solely an American problem, he says.
In recent years, the media has regularly put the spotlight on racism, but there are always some who twist the debate, the two argue.
– There have been many slides into «what about isms», says Yohaness.
Awil agrees:
– Only one case of infection has been reported from the demonstration, yet this was the aspect that received the greatest focus afterwards. The parliament politicians went as far as to claim that we had sabotaged the fight against the virus.
And even the statue debate, says Yohaness.
– Was it a slide?
– Yes, both discussions come from the same place.
– As soon as we started talking about institutional racism and the need for a receipt scheme for the police, the debate was twisted into the fact that the demonstrators were somehow going down to the Holberg's square with a hammer. Despite the fact that none of us wanted to demolish statues. We are fighting to abolish institutional racism in Norway, says Awil.
The association will continue their work
– How do you see the work ahead? Will the anti-racist movement keep the attention up?
– It is not just a trend, Awil answers, and adds that the demonstration on June 5th is not the last event the association will organize. They have a lot planned for the autumn, but what specifically they are currently keeping secretive.
– Power lies in the numbers. It is important to have people stand with us, but it is at the grassroot level where change is happening, says Yohaness.
Since 2016 they have first and foremost been working without the media spotlights. They will continue to do so.
– It is not that important for us if Aftenposten or NRK is there, says Awil. It will be an eventful fall, and we hope to bring about local changes.