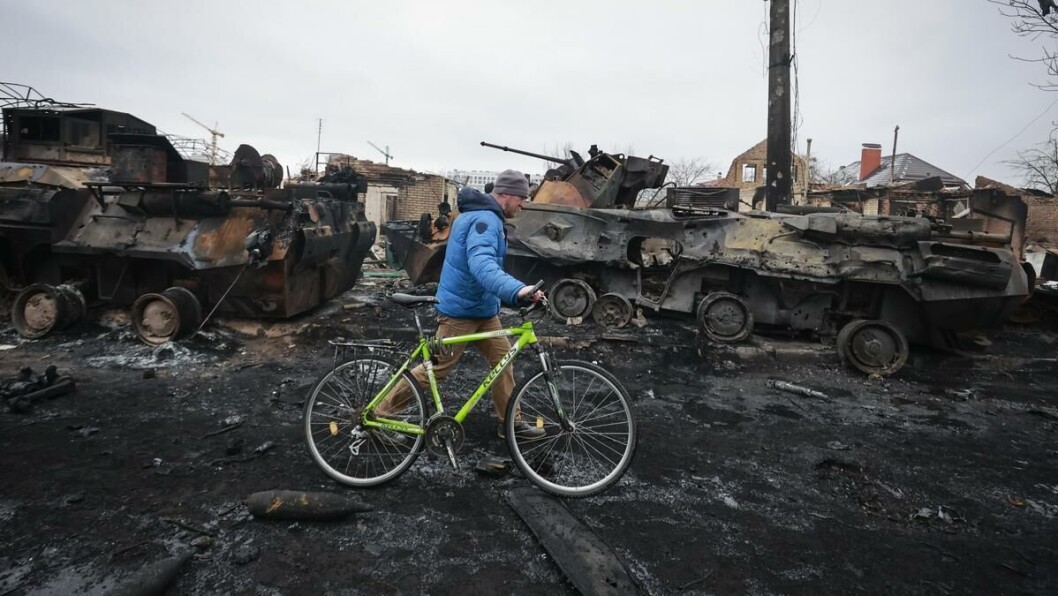 The Students Living amid the Bombing in Ukraine
Russia's invasion of Ukraine is leaving deep scars amongst its entire population. Some Ukrainian students tell us how the invasion has changed their everyday life.
The war in Ukraine:
Russia invaded Ukraine during the night on the 24th of February.
Right before the invasion, Russian president Vladimir Putin delivered a speech in which he stated that the purpose of the invasion was to "demilitarise" and "denazify" Ukraine.
In response to the invasion, numerous Western countries have put in place extensive sanctions against Russia. These sanctions have touched multiples sectors such as the central bank, businesses, as well as sports and culture industries.
On the 24th of February, many Ukrainians woke up to the sound of air raid sirens and missiles. Russia had begun a full scale invasion of its neighboring country.
—I woke up at four because I had to write a message. Then a YouTube notification popped up about Putin having a press conference. I watched it to hear about his "operations", Valeriia (21) tells Universitas from Kyiv in Ukraine.
—Around five I saw what looked like a big bright shooting star followed by a loud noise.
Valeriia has a bachelor degree in journalism and social communications.
– My plan was to take a master's degree this year, I wanted to go abroad to do it but I couldn't due to the pandemic.
Now she is in the midst of a gap year and is working as a freelance journalist, while her dream master's degree is put on hold. US intellignce had already warned about an attack on Wednesday the 16th of February. When the said day passed without an invasion, a sigh of relief was exhaled by many. A week later, on Tuesday the 22nd of February, Vladimir Putin recognized the breakaway republics of Luhansk and Donestk as borders to Russia. These areas have a high number of Russian-speaking Ukrainians and have been ruled by pro-Russian rebels since 2014.
The invasion itself came two days later. Ground forces moved into Russia from three different ways, and more towns were hit by missile attacks. Amongst those hits was the capital Kyiv and the city of Donetsk.
In the crossfire
– It's very difficult to describe what I've experienced in the past days, explains Dasha (22).
– My entire country is being burned down — every single city I once dreamed of visiting, my beloved Kharkiv, the village my two-year-old cousin lives in — every place I have memories of is being burned down.
Dasha(22), master`s student in Kyiv
Dasha is from Ukraine's capital, Kyiv, where she is studying a master's degree in communications at the Kyiv-Mohliya academy (Kyiv-Mohliya-akademiet). After the invasion she fled from Kyiv with her parents and her cats.
– My entire country is being burned down — every single city I once dreamed of visiting, my beloved Kharkiv, the village my two-year-old cousin lives in — every place I have memories of is being burned down.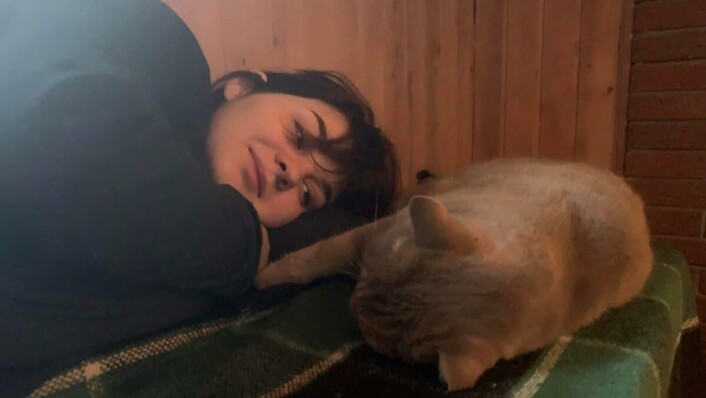 – I'm not sure if those memories are even real at this point. I will never be able to live them again.
All of the air raid alarms, the fleeing and the invasion in itself has managed to touch Dasha deeply.
– I have now learned to distinguish military vehicles from normal by look but also by sound and from having witnessed different types of military attacks nearby.
Dasha explains that she, for one reason or another, counts from one to eight every time she hears the sirens.
– It felt animalistic but it gave me the smallest sense of physical safety.
Valeriia used to live on the outskirts of Kyiv, in the town of Brovari, and she studied her bachelor degree at the Taras Schevchenko University in Kyiv. Now she is living with her parents in Tsjerkasy, locate in central Ukraine.
– I was lucky because I could leave fast. Brovari was one of the first cities to be attacked.
Valeriia phoned her parents as soon as she could and she was able to evacuate with her partner and her cats.
– I am very lucky because the city I'm in now is very safe, it doesn't have any military centers. I hope it remains safe.
Many are fleeing
Hundreds of thousands of Ukrainians are currently fleeing the country. According to the UN, the number of refugees could reach up to five million people. This means that the majority of country's population of 44.5 million people will remain in Ukraine.
Even before the war, 1.5 million people were internally displaced in the country. That number has risen drastically throughout the past week. Dasha and Valeria are only two of many who have had to move to other parts of the country.
– I am staying in Ukraine, at least for now. I feel unable to run, just the thought of it numbs me.
– I'm not sure what needs to happen for me to flee, but I guess I'll feel it.
In addition to all of this, Ukraine has an important amount of international students too. The Indian Ministry of Foreign Affairs has announced that one Indian student has already been killed. Many international students are amongst the stream of refugees leaving Ukraine, and many of them have struggled to get out. There have also been multiple reports of discrimination in Poland against people with darker skin coming from Ukraine.
Everyday life has changed
– I both did and didn't expect the invasion, says Dasha
– I didn't want to believe that I would ever in my life experience a full invasion of my country, but with all of the news the past four months I was physically and mentally prepared. That's something I'm realizing just now.
– Up until now we've talked about what we look forward to doing when the war ends. Like going to eat at McDonalds, but now I'm emotionally devastated.
Valeriia (21), freelance journalist in Ukraine
Valeriia explains that just before this interview she heard the news about Kharkiv, the second largest city in Ukraine that had just been heavily bombed.
– It was a turning point for me. I think in the beginning I could rationalize it logically. They just went after military targets and buildings that were strategically important for them. Now it's just chaos.
– Up until now we've talked about what we look forward to doing when the war ends. Like going to eat at McDonalds, but now I'm emotionally devastated.
– I had big expectations for 2022, my plan was to spend time with my cats and my partner. But things escalated quickly.
Both Valeriia and Dasha have expressed that their everyday life has changed.
– I work from home, so my daily routine is the same. But I feel isolated, explains Valeriia.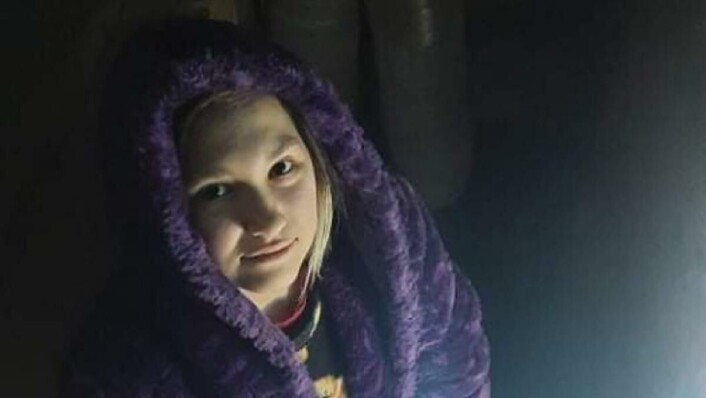 – You can't not follow everything that's happening minute by minute. You can't miss the slightest bit of information.
Valeriia says that despite the war, humor is still alive and well in Ukraine.
– It's not like we're crying every waking minute. We still laugh at our problems.
Uncertainty about when it will end
The devastation caused by the war has already been great. Buildings in Kyiv are in ruins.
– It's something that will be difficult to recover from. But we'll be able to do it, claims Dasha.
— How do I see this war ending, Dasha asks herself.
– Going home again.
There are currently negotiations underway between Ukrainian and Russian representatives in Belarus, but there seems to be no end in sight so far. In addition to this, Russia has been heavily sanctioned by Western states, which is likely to have dramatic economic consequences, not only for the Russian elite, but also common Russian people. Despite of this, the Russian Minister of Defense, Sergei Shoygu, stated that Russia will not give up until they have reached their goal.
– I'm pretty sure it's not going to last a few days — it'll take months, maybe years. This is something difficult to recover from, but we will.
— My hopes and dreams for the future are very simple — I hope I'll see my hometown once again and get to give a hug to my friends and family once this is all over, Dasha explains.
Valeriia is more hesitant before giving an answer about how this may end.
– First and foremost, I want my loved ones to stay safe.
– And apply for a master's at Stanford. I don't know how realistic it is, it's very expensive, maybe I can apply for a scholarship.
– On a global level, I hope we can stop wars to instead focus on tackling problems like global warming and hunger, concludes Valeriia.
Also read: Living with a Long-Term Illness as a Student - How to Access Help?