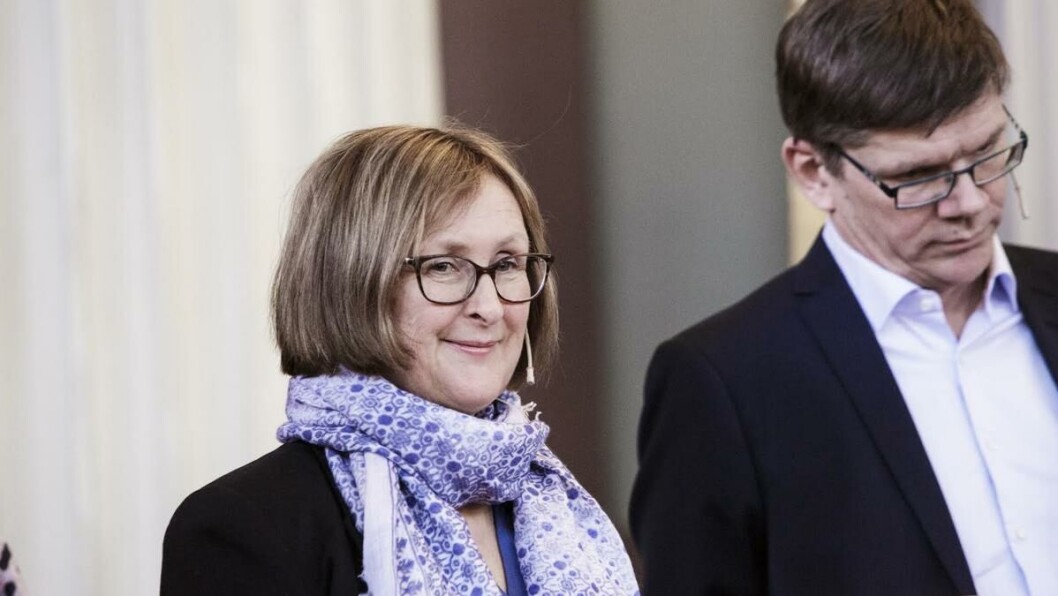 No to exam-free 18 May
For students, an exam on May 18 is one of the worst things that could happen. While the students from Kristiania University College and Oslo Metropolitan University enjoy the day off, it's business as usual at the University of Oslo.
Students in Bergen have something to rejoice over this month. Oddrun Samda, current Vice-Rector of Education at the University of Bergen, has promised that 2018 will be the last year students risk having exams on May 18. This means that students will be able to celebrate the Norwegian National Day without worrying about exams on the following day.
Is Oslo going to follow the example of the west coast? Or will students have to transfer schools to get a guarantee they can celebrate 17 May properly?
Examination figures from UiO
From 2 May to 15 June, 29 days of exams have been set up.
It is estimated that around 29,092 candidates will have exams.
This means an average of around 1,003 candidates per day.
May 28 averages highest with 1,582 candidates, and 2 May as the lowest with 311 candidates.
Exams set up May 18 this year: ECON1410, ECON4330, PSYC2207, OD3200, JUR1260, JUS5260, MED6800, MED4500R, MED1100.
Move to Bergen then
Universitas asked the University of Oslo, Norwegian Business School BI, Oslo Metropolitan University, and Kristiania University College what they think about having an exam-free day on May 18.
According to Gro Bjørnerud Mo, Deputy rector at UiO, this is not a relevant issue for the institution.
«We have around a thousand written exams to conduct each spring semester and need all the days we can get,» she said.
The University of Oslo has 546 students set to take exams on May 18. Of these, 284 belong to the faculty of Social Sciences, and the rest to the faculties of Law and Medicine. According to an examiner in the faculty of Social Sciences, exams have been set on the date over the years and it hasn't been an issue. Figures have also shown students do not opt out of certain elective subjects just because they might an exam on May 18.
The same figures also show that having 500 candidates a day is comparably little during the main examination period. With around 29,092 candidates divided into 29 exam days, a typical exam day can easily average to twice the number of candidates per day.
When the capital celebrates without you
On the other hand, students from other institutions around Oslo can take a little breather.
«When we put together the exam schedule, we try to look at the totality of making the best possible plan for students. This year, no students will have an exam on May 18, but we can't guarantee that this will apply in later years,» says Siri Østli Jakobsen from Kristiania University College.
Oslo Metropolitan University is also striving for an exam-free May 18.
«This year we have no exams on the day. However, I can't guarantee that we will always have an exam-free May 18, when we consider how public holidays are spread out in May,» says Marianne Brattland, Senior Director at Oslo Metropolitan University.
There are also no written exams or submissions scheduled for May 18 according to BI's website, thus leaving UiO as the only institution carrying out exams on the date.
Impractical and unfortunate
The Norwegian Student Organization and Student Parliament in Oslo have both had this issue on their agendas for some time. The Student Parliament's resolution from last spring stated that scheduling an exam directly after the Constitution Day is «inconvenient and unfortunate» and should be avoided.
Both the documents highlight it's impossible for students to retain full concentration due to increased noise levels, even if an individual does not celebrate the national day. The fact that the «student culture is characterized by a lot of house parties» is, after all, hard to deny.
Prioritizing Saturdays
Leader of the Student Parliament, Jens Lægreid, admits that exam-free May 18 is the dream that has consistently been undermined by UiO's limited physical capacity. There just isn't enough space on campus for all the students who need to both study and sit exams, and eliminating a day of exams is therefore considered impractical. The Student Parliament's current priority is opening more study rooms during the examination period.
«It's very unfortunate that students can't use the study rooms when they need them most. Silurveien [an exam space outside the city center where UiO holds exams] is part of the solution but I personally, think the university should use other forms of examination, not just written, more often.»
Negotiating for certain exam-free days has proven difficult. The Student Parliament wishes to have both May 2 and 18 as exam-free, but highest on the list of priorities is avoiding exams on Saturdays..
«No students should have to write an exam on a Saturday. There aren't any at the moment and we are working to prevent it from happening, « says Lægreid.