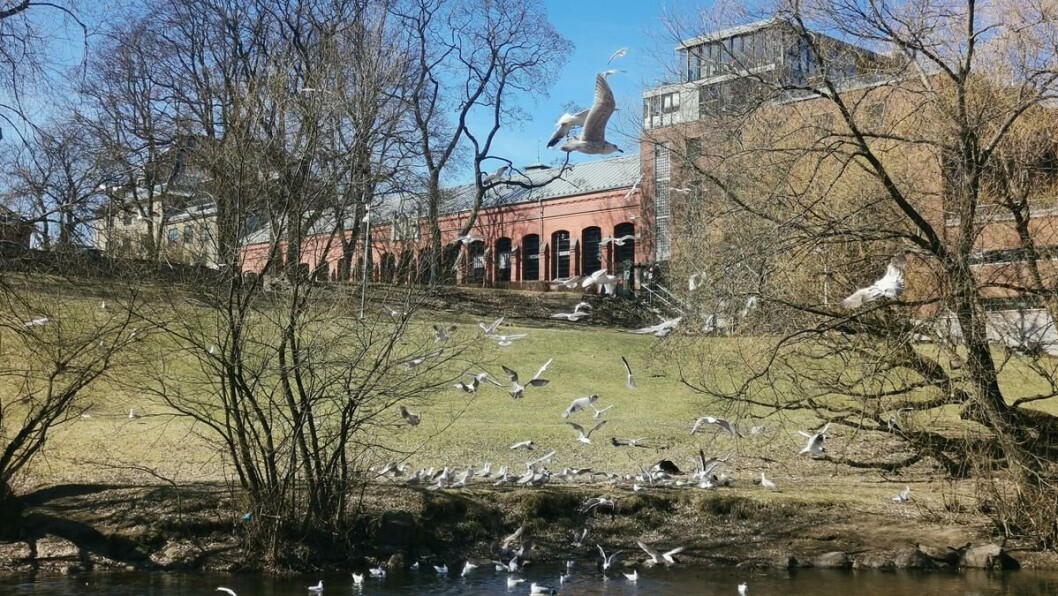 A Student's Guide to Oslo's Trendiest District
Whether you've lived in Oslo for a while or you've just moved here, you have probably heard people mention Grünerløkka or perhaps even the shortened version "Løkka".
This area in Oslo is a favourite place amongst locals and international students, and there are plenty of reasons why: the cosy cafes, the unique bars and seemingly endless stream of vintage stores, whatever speaks to you the most, here is a list of places in Løkka to check out that are suitable on a student's budget.
UFF Second Hand Løkka
Buying second hand clothing is nothing new for me, and there are so many good reasons why it's better than buying from fast fashion stores:
When I started asking people about the best places where to go thrifting people always referred to Grünerløkka. So after a walk around, I discovered that there are so many cool and intriguing vintage stores in Løkka but not many of them were particularly compatible with my student budget. Many of them were either full of expensive brands or they just had a very selective selection of items but then I found UFF.
Cowboy boots? A sparkly raincoat? A funky hat? You've got it! Something is bound to catch your eye in this popular store, and the prices are very reasonable (and there is an extra 10% discount for students)! On top of all of this UFF is actually a charity that donates the money from sales to humanitarian aid all over the world!
You'll also find two more UFF stores in Oslo located in Prinsens gate and Hegdehaugsveien.
it's cheaper;
it's eco-friendly;
you're definitely more likely to find something cool and unique.
Cultivate Food
This place was recommended to me by a friend, and I only wish I had found out about it sooner! Cultivate Food is a plant-based restaurant/café located in the heat of Løkka and is definitely accessible on a student budget. The interior is warm, modern, and there are a lot of plants decorating the walls. From breakfast to dinner there's something here for everyone whether you're vegan or not.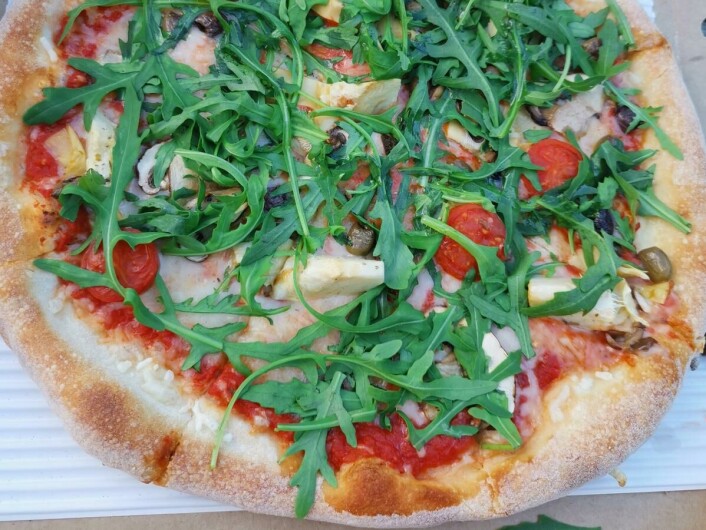 You'll find warm sandwiches for 40kr, cappuccinos for 30kr, a large selection of heartwarming soups for 60kr, a pad thai with tofu for 80kr, a tasty vegan burger for 100kr and much much more. The list of tasty food here is endless and I highly recommend that you check out their menu for yourself. So why not switch out the usual fast-food burger and fries for a healthy (but no less tasty) alternative?
Not only is Cultivate Food passionate about serving delicious meals, they are also passionate about serving high quality and environment friendly meals, which is why most of the vegetables come from their farm "Kveldsrud" located in the town of Jevnaker. I could give you good reasons to check this place out all day but the only way you'll ever know is to book a table and check it out yourself, but I guarantee you won't regret it!
Godt Brød Grünerløkka
Looking for somewhere new to have coffee with friends? Only a minute's walk from Olaf Ryes tram stop, Godt Brød is easy to find with its bright yellow exterior. I first went to this cosy bakery and café on a Saturday afternoon, needless to say it was bustling with couples, friends and families alike. Luckily the building is bigger than it looks on the outside and it opens up round the back to a spacious sitting area with wooden tables and a small courtyard to enjoy on warmer days. The ingredients are organic and there are plenty of vegan options to try.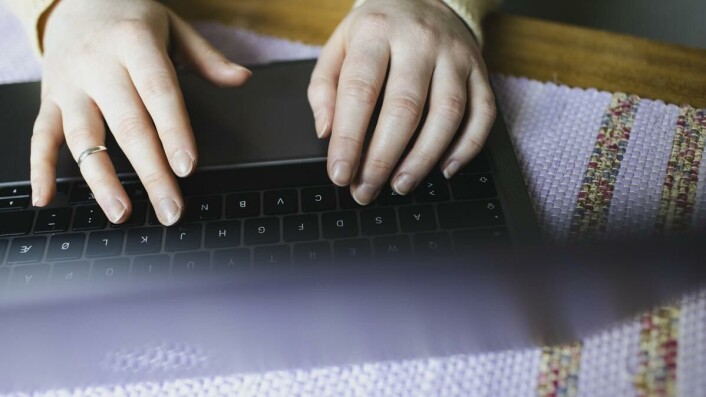 Of course, like most cafés in Oslo you're looking at spending roughly 80kr-100kr for a hot beverage and a cake, but you can make the most by sitting there for a while with a friend or why not even take your laptop and get some work done? Either way, I promise you that the cakes are worth it, and I highly recommend a slice of the carrot cake, which is probably the best one I've had in a long time.
Fransk Bazar
Okay, I'm not so sure this place is totally perfect for a student budget, but if you can't afford a trip to Paris this spring, then Fransk Bazar is the next best thing to get a taste of France. Indeed, this shop is a super cool place to check out next time you're strolling around Grünerløkka. Opened by a French expat, Fransk Bazar is a vintage/antiques shop selling authentic French items. From furniture to art, plates to clothes there are so many interesting gems to find here. It is a great store to check out if you are looking for a unique gift. For example, you will find a large selection of old Vogue covers that have been framed, you will find beautiful liquor and
wine decanters, enchanting hand mirrors and many other curious objects.
Before you decide to check it out, keep in mind that this shop is closed on Mondays and Tuesdays, but open on Wednesdays, Thursdays, Fridays and Saturdays between 12-18, and open on Sundays between 13-17!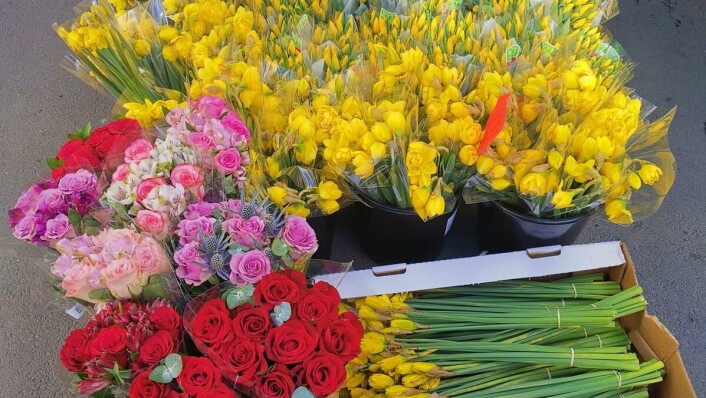 Getting to Grünerløkka and Chilling at Olaf Ryes Plass
Grünerløkka is very central and easy to get to, but unfortunately there is not yet an underground line to that area in Oslo. The best way to get there is to take the tram line 11, 12 or 18 and stop at Olaf Ryes Plass!
This stop`s name belongs to a park that lays right next to it and it's the heart of Løkka. On a sunny day, I highly recommend just sitting on one of the many park benches with a coffee and watching the world go by. You'll see just how lively and ambient Grünerløkka is by just people-watching. This place is always bustling so you'll constantly have something to look at, whether it's a group of kids, dog walkers, skaters or fashionable trend setters - you'll never be bored just sitting there.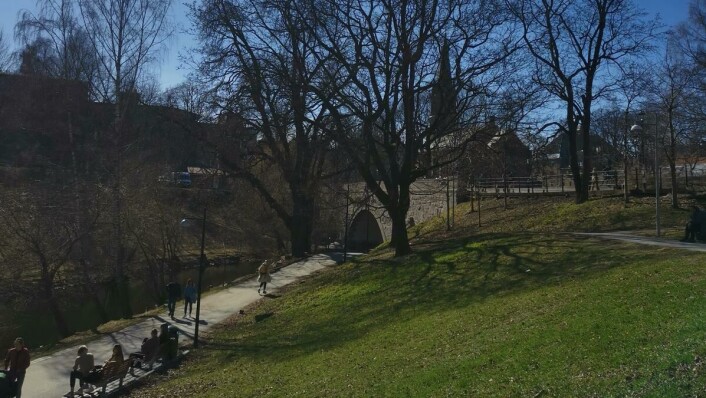 As well as Olaf Ryes, there is also Sofienberg park, a perfect place to have a picnic with friends. And if you're not in the mood to sit and chill, then why not go for a nice walk along the Akerselva, which runs through Grünerløkka and will give you a display of the area's former industrial past.
So whether you live close by and pass Løkka everyday or if you have yet to discover it, Spring is the perfect time to check out one of Oslo's most-loved areas.