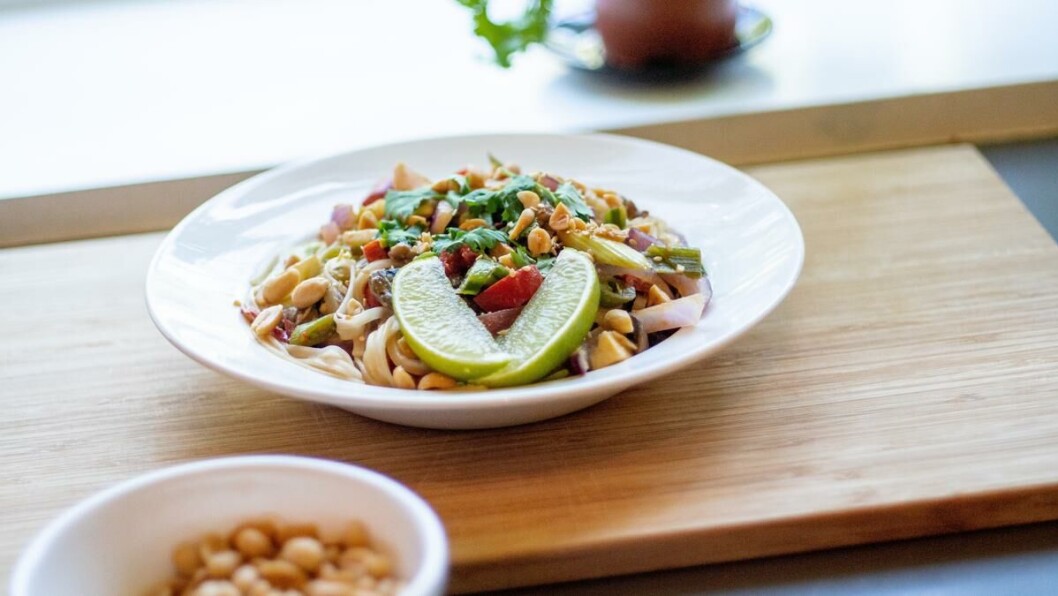 Your Vegan Guide in Oslo
Here's your guide to the tastiest vegan and vegan-friendly cafés and restaurants in Oslo
Spring in Oslo is looking extra green, thanks to new culinary additions of vegan eateries in recent years. Cooking without meat or dairy proves for many to be no longer a constraint but rather a beginning of endless possibilities of vegan dishes.
I have gathered here some of the tastiest, mouth-watering restaurants and cafés that are either wholly vegan or have vegan-friendly menus. Whether you are a vegan looking to devour some epic vegan cuisine Oslo has to offer or a part-time vegan exploring more meat-free and dairy-free food options, you'll hopefully find something to your liking from this list.
Some of the classics:
1. Funky Fresh Foods: the best of vegan Grünerløkka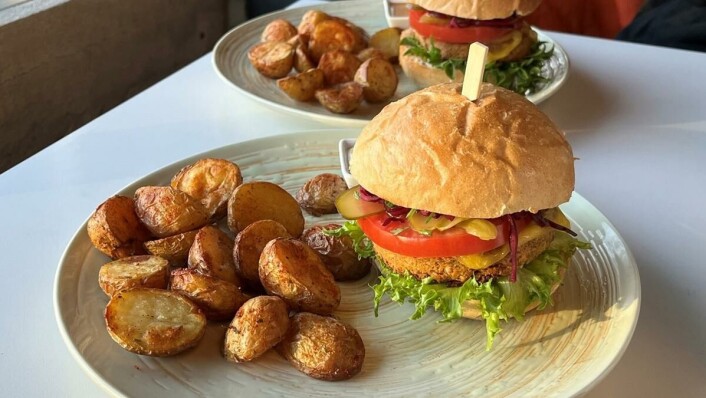 Located at the mouth of the lively Grünerløkka, they've got the funk, they've got the fresh, and they've got a whole lot of oomph going round. This 100% vegan café/restaurant is a terrific place to grab a bite while enjoying a great view out the window overlooking the Akerselva river. They offer a casual plant-based menu from buckwheat burger, beetroot curry, rice noodle salad to superb brunch platter with chickpea omelet and vego balls, not to mention raw cakes with a myriad of flavors to choose from. The lush and earthy vibe, good food, and friendly staff… what more could one ask for? First-timers might find it hard to find the entrance, so here's a little tip: look for its entry right behind the Kulturkirken Jakob.
Location: Hausmanns gate 16
Cococrunch 35kr, a slice of Raw cake 69kr, Buckwheat Burger with oven-baked potatoes 198kr, Beetroot Curry 185kr
Opening hours: Everyday 11:00 – 18:30 (last order)
2. Nordvegan: for food but also save room for the dessert, yum!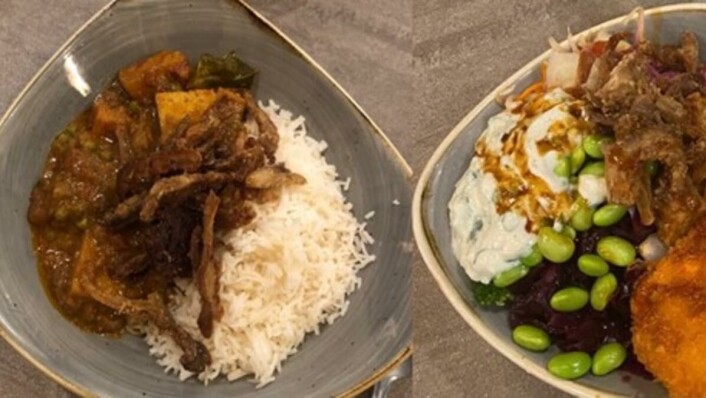 Nordvegan is also on the list for one of Oslo's best-known all-vegan restaurants. They offer a variety of vegan food on a rotating basis - their menu varies from week to week - at a reasonable price. The atmosphere is casual, and you are just a skip away from a quick service with food served right off of the buffet. Help yourself to a tasty bowl with personalized toppings - delicious curry with sweet potato tempura and fried mushrooms, a slice of vegan lasagna with salad, or a Buddha bowl. They offer great meal deals and are also very invested in making good vegan desserts, and I must say, their cakes are scrumptious. Personal favorite? Try their carrot cake or chocolate mousse cake.
Location: Kristian IVs gate 15B
Meal deal/Buddha Bowl 179kr, Curry deal 175kr
Opening hours: Weekdays 11:00 - 20:00 (till 21:00 on Friday), Weekends 12:00 – 20:00 (till 21:00 on Saturday)
3. Oslo Raw Adamstuen: a sleek and cozy hangout place for everyone
If chic and instagrammable brunch, vibrant colored smoothie bowls, and raw cakes that are almost too pretty to eat sound like your cup of tea, I strongly recommend visiting Oslo Raw, located in a little corner on Adamstuen. They boast vegan, gluten-free, organic, and raw menus ranging from avocado and hummus toast to raw bites and green bomb smoothies. In other words: this place is raw food heaven. They offer indoor and outdoor seating, but sometimes it might be tricky to get yourself a table, especially when the sun is out - but definitely worth trying out with your friends. They also have a sister café in Frogner, with its own charms, a lovely interior and little Paris vibe.
Ullevålsveien 82
Matcha Latte 59kr, Raw cakes 68kr, Green Bomb smoothie 89kr, Acai bowl 145kr
Opening hours: Weekdays 9:00 – 17:00, Weekends 10:00 – 17:00
4. Cultivate food: a well-priced all-rounder
A relatively new addition to Oslo's expanding list of vegan and plant-based eateries, this vibrant café/restaurant in the heart of Grünerløkka does not disappoint! The wood-accented décor inside gives us a relaxed atmosphere embellished with deep green plants. Here you can have your nibble at any time of day, from breakfast to dinner. It doesn't get better pricewise – sandwich with grilled veggies and vegan cream cheese at 39kr, hot food of the day offered at 79kr, and three-course menu under 200kr – which makes it by far the most budget-friendly place mentioned in this list. If you are ever in the area, make sure to check out hearty dishes from Cultivate food. I guarantee that you'll leave feeling full and content.
Location: Helgesens gate 18a
Price: Sandwich 39kr, Soup 59kr, Lasagne 119kr, Cauliflower and chickpeas curry 119kr, Cultivate burger with creamed shiitake 139kr
Opening hours: Mon – Thurs 8:00 – 22:00, Fri 8:00 - 23:00, Sat 9:00 – 23:00, Sun 9:00 – 21:00
Places with vegan-friendly dishes:
1. Talormade: a shoutout to vegan donuts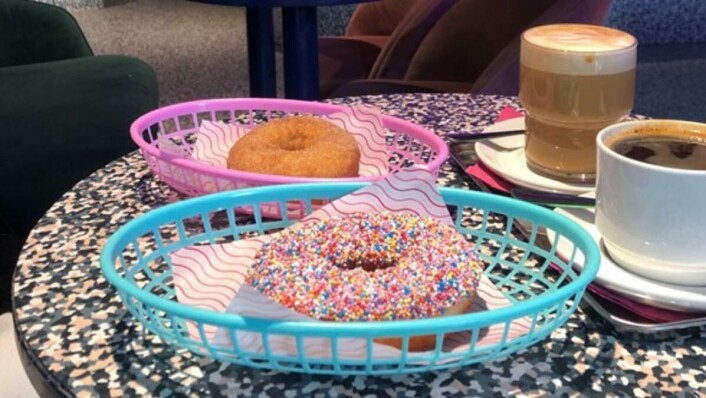 Talormade offers a variety of vegan donuts with flavors such as cinnamon sugar, passionfruit, raspberry and pistachio, and chocolate sprinkles - and they are becoming more varied in both the flavors and the toppings. Their selections of roasted coffee are also popping in taste, which comes as a pleasant surprise. On a day when you are craving some donuts, Talormade is the place to be! Enjoy your sweet under some pink neon lights.
Location: Nycoveien 2
Price: around 50kr per donut
2. Jungel Pizza: a class of its own in vegan pizzas
Tired of ordering a pizza marinara when you go out with your friends, because they don't have a decent vegan menu? Look no further because Jungel Pizza will take you to a whole new world of vegan pizzas with cashew mozzarella, amandine potatoes, spinach with garlic oil, and chili flakes. They have five vegan pizza menus featuring toppings, such as portobello mushroom, kalamata olives, broccolini, and pesto. The pizza comes with generous portions and a reasonable price. Takeaway only - how about Netflix and chill with a vegan pizza?
Location: Dalsbergstien 6a
Price: Vegan pizza 155kr (small) /199kr (big)
3. Majorstuen sushi: great takeaway vegan rolls
If you are a vegan in need of a quick sushi fix now and then, vegan maki rolls from Majorstuen sushi are the perfect go-to menu. You can have maki with fillings, such as avocado with cucumber, fried tofu with kimchi, avocado, or sweet potatoes at a reasonable price. Unfortunately, it's not possible to dine in, but hey, takeaway vegan rolls are great, the price is right, and the service is fast!
Location: Bogstadveien 53
Price: Vegan maki rolls (8 pieces) 65kr
4. Monsun noodle bar: wide vegan options from Asian kitchen
Monsun noodle bar is an ideal spot if you are looking for delicious Asian cuisine. They provide dedicated vegan menus with various options - vegan ramen, vegan Pho, teriyaki or satay woked noodles and rice, and more. It's perfect for any mixed crowd where everyone will have their options.
Location: Helgesensgate 14
Price: Vegan ramen 149kr, Satay vegan noodles 169kr, Vegan pad thai prik 175kr
5. Happy Foods: colorful, healthy, tasty
It's colorful, stylish, carefully balanced and fresh. Great hole-in-the-wall to pop in for lunch if you are in the area near Majorstuen. Happy Foods' menu will make hungry guests instantly pleased with their favorite vegan versions of quick bites. Sneak peeks of the menu: smoothie bowls with mango, coconut, berries toppings, amazing carrot waffles, avocado toast, and ginger latte.
Location: Neuberggata 2a
Price: Smoothie bowls 115kr, Carrot waffles with toppings 125kr
Last but not least, you can download an app called 'Vegan Norway,' which helps you get information about vegan-friendly places to eat and shop in Oslo. And don't forget to check out Sådd, UiO's first vegan eatery, if you haven't already.