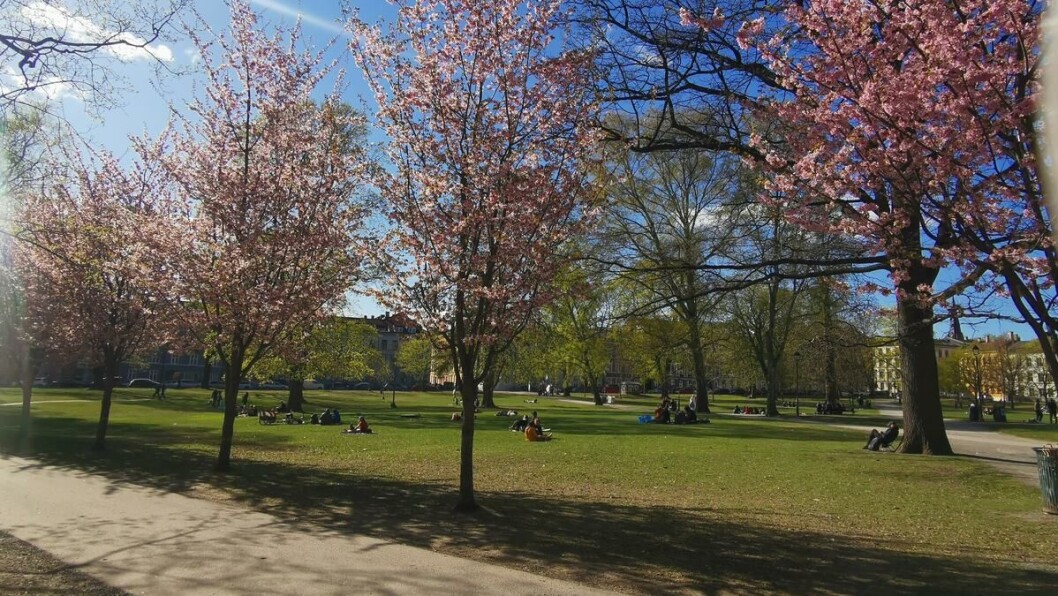 Top 11 Picnic Spots for a Perfect Day Outside
Get out! Picnic season in Oslo has started!
This is for all the busy bees, turtledoves and chatty cohabitants that are at the same time fresh-air enthusiasts. The Sun is out and so are we. As the Sun is tickling our noses, we no longer have to stay inside to be shielded from the cold. Now is the time to exchange the confines of large lecture halls or library-buildings for the small patch of happiness that is a picnic blanket. After several dark months, the prospect of tackling the literature-list, coming up with refreshing ideas for a term paper or just hanging out with friends outside rather than inside is all the more appealing with every day that the Sun decides to honour us with her presence a bit longer. So pack your books, some snacks and drag along your buddies for the picnic season has started. We've got you covered with the best spots for your picnic - be it for a study session with your study-buddies, a sporty afternoon with your roommates or a romantic evening outside with your loved ones.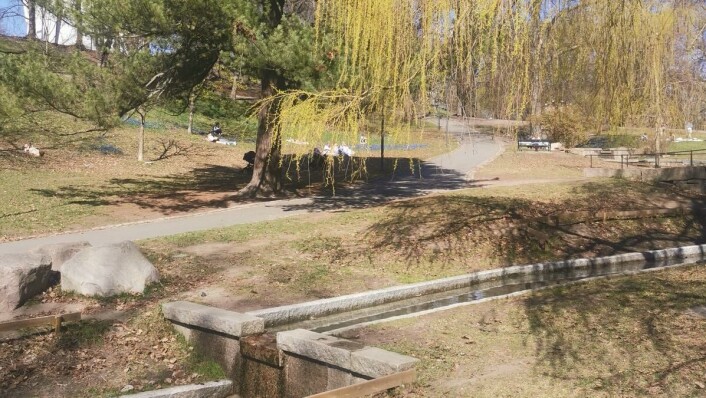 Close to Bislett stadium lies the hilly yet romantic St. Hanshaugen Parken. Climbing up to the highest point, you will be rewarded with a scenic view over Oslo's city center and the fjord. An almost impeccably white house, that may very well also be described as a mansion with a tower Rapunzel would've let her hair down from, seems to watch over the city from its elevated position. Just in front of it lies a basin, whose ground is decorated with a colorful mosaic. Heading down the hill your eyes will encounter a small stage, on which concerts and other performances keep the picnic-enthusiasts on the grass-area in front of it entertained. Looking for a more secluded and quieter place in the park that formerly has been not more than a bare rock hill? The eastern or northern part of this idyllic refuge in the city will serve you with that. In case your feet start getting the tingly feeling of ants running in your veins, take a short stroll around the park admiring the few statues scattered around the area.
From the sculptures in St. Hanshaugen to the ones in Ekebergparken is a long stretch - not only geographically, but also in terms of art genre. Located on the east side of the city, 44 sculptures will guide you along your way through this extensive green refuge. It will take you on paved and unpaved paths, through the forest on a small trail or across far-stretching meadows. While many visitors opt for staying in relative proximity to the restaurant and tram-station, it definitely pays off to take a short walk towards the most eastern side of Ekebergparken, at which Ekebergtrappen awaits you. It is a concrete flight of stairs, below and above which meadows invite you to spread out your picnic blanket or to engage in one or the other round of Kubb. Only the somewhat eerie statues flanking the stairs might deter the jolly mood. A bit less scary yet still intimidating is the dancing pair dangling in the middle of two sprawling treetops located at Havnehagen, another tree-free area in Ekebergparken perfect for picnics. The shimmering surface of the sculpture reflects the sunlight, sending a blinding spot across the entire area, which in the warmer months is full of tourists, art-enthusiasts, birthday-party-attendees, playing children, dogs and many more people.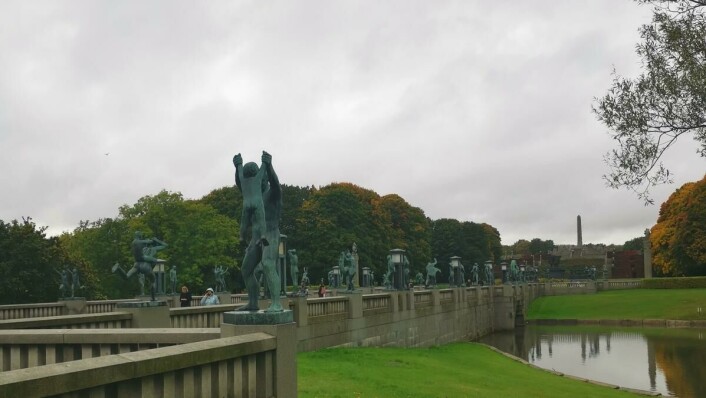 Just as crowded as the formerly mentioned Ekebergparken at the city's east side is the unarguably very prominent Frogner Parken in the western part of Oslo. As it hosts the Vigeland Sculpture Park it attracts not only, but especially tourists. Due to its extent, Oslo's central park also is a welcome place for runners and dog-owners. For sport-enthusiasts there is the Frogner Stadium as well as the open-air pool waiting, and for a quick refuel after exercises done several cafés and kiosks are at your service. The 14,000 roses that adorn the meandering paths will lead you to your perfect picnic spot. Leaving the paths of Frogner parken for just some minutes you will find yourself in Skøyenparken, which will undoubtedly be less crowded by tourists than its more famous neighbour.
Speaking of the islands: why not roll up your blanket and find your perfect picnic spot on one of them? The B1-ferry will take you to Lindøya, Gressholmen, Bleikøya, Nakholmen and Hovedøya, which all have their very unique vibe. Hovedøya and Bleikøya, for example, are the islands convincing with a historic touch, as the former houses an old monastery and the latter an old sanatorium for children infected with tuberculosis. Lindøya and Nakholmen are the more residential islands with summer homes of Norwegian families.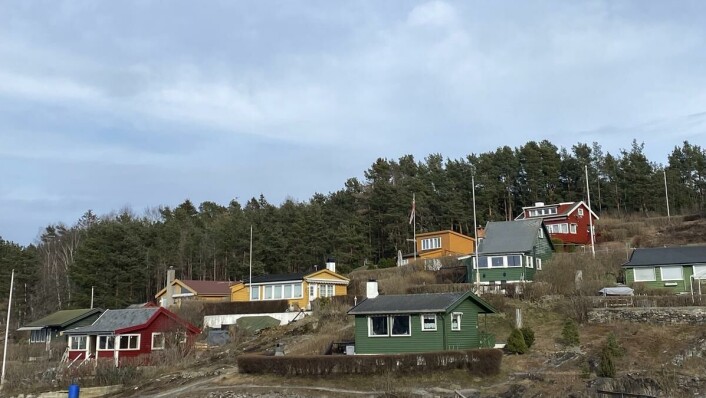 Lastly, Gressholmen is strongly connected to flying: the former seaplane airport today is a habitat for birdlife. The zone-1 ticket for the public transport will get you to those little gems in the Oslofjord. If you wish to visit Langøyene with its inviting beaches, you will have to get an extra-zone ticket. What all the islands do have in common, however, is that they are covered in red, yellow or blue cabins that are so commonly attributed to Norway. Last but not least, each of them convinces with its unique charm and invites you to spend an afternoon exploring it or just relaxing there.
The former industry-powerhouse of the city has been transformed into a stretch of land for recreation. There are several spots where you may spread out your picnic blanket depending on the infrastructure you wish to be surrounded by. Especially the area that is to be reached by getting off the public transport at Birkelunden, Olaf Ryes Plass, Telthusbakken or Møllerveien is surrounded by cafés and restaurants, as Oslo Mathallen as well as Grünerløkka are in walking-distance. Not needing any such extra-services means that Grünerhagen, Kubaparken or Myraløkka may be of interest. There people already now start bringing their single-use grills in the evenings or playing card-games on their blankets that are filled with delicacies. To find one's own perfect picnic spot is as simple as strolling along Akerselva with open eyes and a bag filled with snacks and drinks.
The university campus might not at first glance appear to provide hard-working students with any space to wind down in the grass that is not overly populated. That being said, it might come as a surprise that Blindern campus in fact has a small area that is not crowded with fellow students hastily making their way from one campus-building to the other. In the south-west of the extensive campus, wedged between Apalveien and Suhms Gate lies an open meadow. Pointing towards Majorstuen, it provides a surprisingly far-reaching view over parts of the city centre and invites everyone on campus to take a break and chill.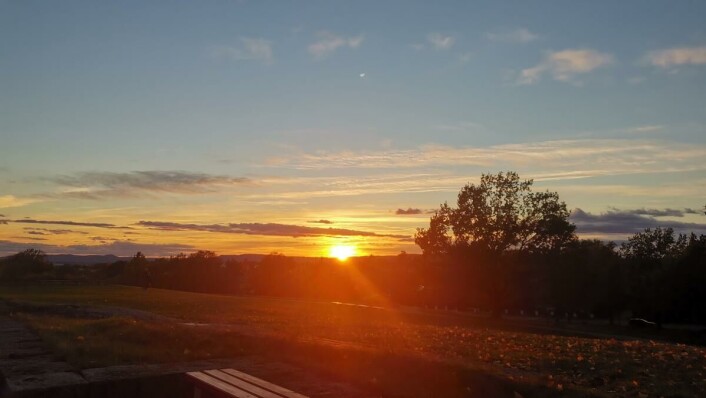 In immediate neighbourhood to the Blindern campus lies Marienlyst Parken. Not only are the rolling meadows tempting for spending the day outside on a picnic blanket, but the beach volleyball field is so, too. Children and those eager to exercise can resort to the so-called playground covered in all sorts of apparatus, ranging from a plate swing to monkey bars. This park is perfect for anyone wishing to spend the day in the sun not only sun-bathing, but by engaging in physical activity.
Overlooked by a free-standing church built of brick at the end of the 19th century, Sofienbergparken is beloved by many for a relaxed day outside on the picnic blanket. It definitely pays off to leave the beaten tracks of Grünerløkka around Olaf Ryes Plass and orient oneself farther east towards this less tumultuous island of joy. Given its close proximity to aforementioned square, cafés and restaurants are just some minutes by foot away.
These parks are, while being adjacent, almost completely opposite in regard to the vibe they give off. The "little brother", Kampen Parken, is the place for all those wishing to find themselves thrown back at least one hundred years, to a day of promenade. Colourful flowerbeds at the feet of classical statues as well as a mysterious little grotto offer much to see in this park.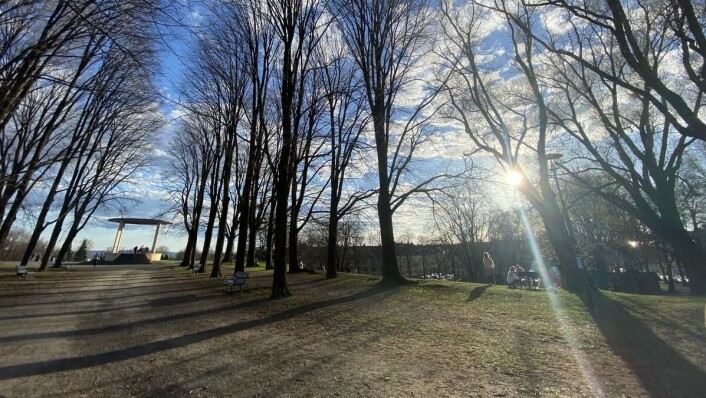 The sunrays are reflected in a shallow basin serving as a welcome opportunity for birdlife to take a dip in while visitors make their way through accurately cut hedgerows towards one of the many wooden benches. The hilly topography evokes a feeling of being not in Norway's capital but surrounded at a serene middle-European landscape. That the profile of the area can also be used for less tranquil hours is to be experienced in the "big sister" of the two parks, Tøyen Parken. There, the hills used for bobsledding during winter are transformed into a natural event-venue for the annual "Øyafestivalen" during summer. Generally, this park has a more modern touch to it as it hosts sculptures of modern art, the most dominant of which being a massive stone-formation. It is up to you to choose what spin you want to give your day on the picnic blanket.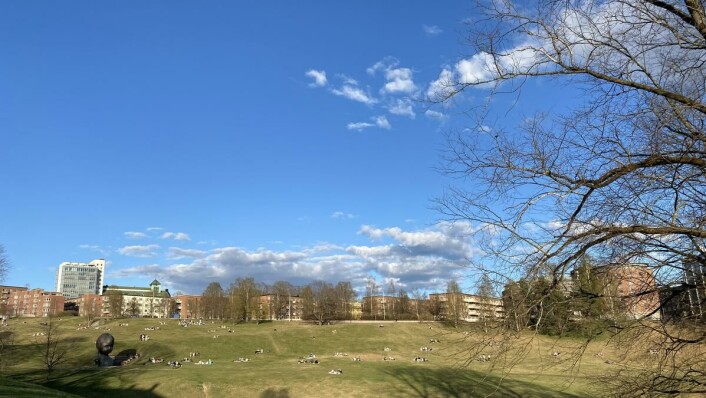 In this park an impressive sculpture formed of stone awaits as well. The giant head casts its eyebeam over the many small hills. Further, a playground invites not only the youngest of Oslo's inhabitants to spend the day outside: a skatepark right next to it attracts "sk8er – bois" and -girls and the like. The mix of age and socio-cultural background in this park cannot be denied: while young fathers push prams on the paved ways, groups of early-adults enjoy their after-work utepils and elderly sit on the benches playing bridge. Thanks to its size, Torshovdalen has space for everyone. Should this for any reason not be the case or should a smaller park be preferred, its name-sibling Torshovparken is just across the street behind the kindergarten. Neighbouring lies Sinsenparken, another rather small rectangle of grass-area that can very well become your next favourite picnic spot.
1. St. Hanshaugen Parken
2. Ekebergparken
3. Frogner Parken
5. Øyene
6. Akerselva
7. Blindern Campus
8. Marienlyst Parken
9. Sofienbergparken
10. Kampen Parken & Tøyen Parken
11. Torshovdalen & Torshovparken and Sinsenparken
No time to lose! Grab your picnic blanket and set off for a day leaned back with a capturing book in hands or engaged in sporty games with delicious snacks brought from home or bought at a nearby café. Spend your day accompanied by dear friends while relishing the first strong sunrays of the season at one of these picnic spots that Oslo has to offer.