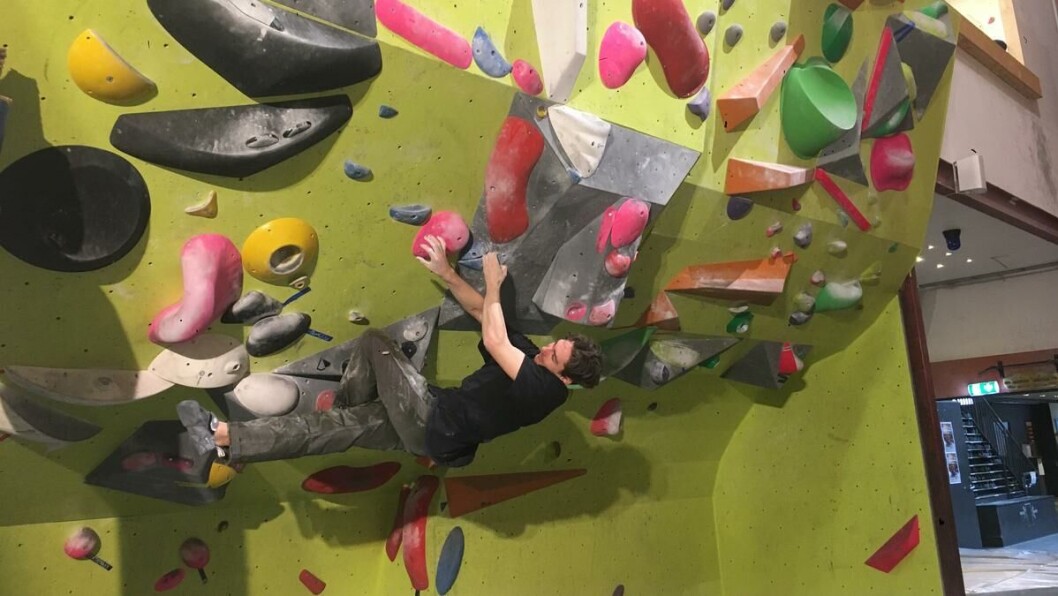 On the Way to the Top: 6 Climbing Gyms in Oslo
If you're interested in rock-climbing, Oslo is a great place to be. With so many forest and recreation areas nearby, there's easy access to plenty of amazing and relaxing climbing spots.
But if you're living here through the winter (or just can't be bothered), then it can be tough to brave the cold all day, not to mention the snowy and icy forest trails that are trying to claim their next victim at every turn. Sometimes it's easier just to head to one of Oslo's many climbing gyms instead. But which one to go to when there are so many choices?
1. Vulkan Klatresenter
Located in the funky area of Vulkan, Vulkan Klatresenter is hidden among a nest of bars, restaurants, food shops and cultural centres. Getting there is easy, just take the 11, 12 or 18 tram to Schous Plass, or take the 54 or 34 buses to Møllerveien. Vulkan Klatresenter is for everyone. There are two roped climbing walls, with grades ranging from 5- to 9-, an upstairs autobelay area, and a small but unique bouldering area with a cave, overhangs, slab and spray wall. The small space means there's no training area, but if you have an OSI Klatring membership you can climb for free starting 6pm on Fridays, and for half price before 3pm on Tuesdays and Wednesdays. If you're unfamiliar with OSI Klatring, it's one of Oslo's sport/outdoor clubs for students, run by students, and they offer trips, activities and cheap climbing for members. Joining is easy and cheap – at only 320kr per semester, it's worth it with only 4 visits to Vulkan Klatresenter. If you have a hankering for some post-climb sushi, cheeses, cakes or more deliciousness, check out Oslo Mathallen next door. Hot tip: free coffee is offered to those keen enough to be there at 7am on Tuesday or Thursday mornings!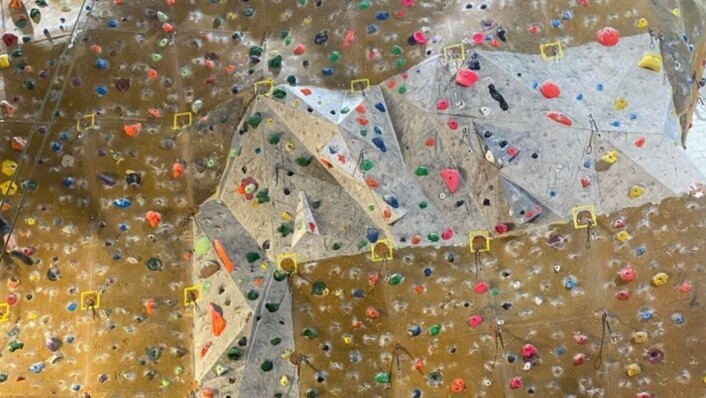 2. Torshov Klatreverket
Torshov Klatreverket is one of 3 Klatreverket centres in Oslo. Torshov is the biggest, and is part of a huge training complex with a regular gym and sauna too – and the sauna is included in the price of entry! Getting to Torshov is also pretty easy, just take the 11, 12 or 18 trams to Torshov. The hall is absolutely massive. The bottom floor has plenty of roped climbing, with easy top rope and autobelay areas and lots of hard, long lead routes. The bottom floor also has some easier bouldering routes and some competition style hard boulders too. On the second floor, there's some more easy top rope and autobelay spaces and a slab area with a nice view of people rope-climbing the main wall while you're resting. The third floor is the best part of Torshov – a great bouldering area, and a huge cave with routes that can be made longer and harder to suit the climber. Then, on the top floor, there's a good training area with weights and a moonboard. Whether you're just starting out or training every day, Torshov Klatreverket is a great spot to check out.
3. Løkka Klatreverket
Løkka is the newest Klatreverket location, opening just recently in February. Klatreverket have obviously decided that North Oslo is a good spot for climbing gyms, because Løkka is a short 10-minute walk from the Torshov centre. Getting there is also easy, just take the 11, 12 or 18 tram to Birkelunden and walk around the corner. Løkka is a refreshing addition to Oslo's climbing scene. Its huge, open layout is a great space, and the training room is located in the middle of it all and elevated above, making for great entertainment when it's busy. There's also a moonboard, great spray wall and hangboard area, including the smallest crimps I've ever seen at 4mm! Come here at your own risk though, the new holds are nice to grip but you won't have any skin on your fingertips for days afterwards. The gym is still having some construction done so there'll likely be some exciting additions in the future!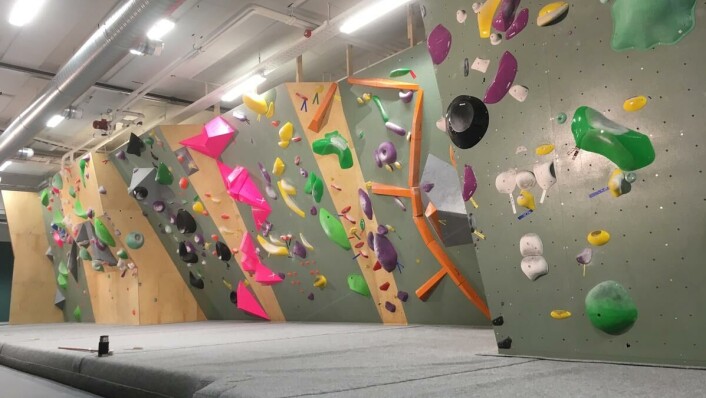 4. Bryn Klatreverket
Bryn is Klatreverket's third Oslo location. It's small but there are plenty of bouldering routes that will keep strong climbers busy. It's a bit out of the way – admittedly I've only been there once – but it's a good option if you're feeling sick of the gyms in the city centre!
5. Oslo Klatresenter
Oslo Klatresenter is located in Skullerud, at the eastern end of T-bane line 3, meaning it's quite a way to get there. If you make the journey, though, it's worth it because Oslo Klatresenter is absolutely fantastic. It's huge, boasting 3 floors, and has something for everyone. On the bottom floor, there's plenty of roped climbing, with short, long, easy, hard, autobelay and lead options, as well as a training area with a moonboard, massive spray wall and plenty of hangboards and campus rungs. They also have a pretty big children's area in the corner, if that's your thing. On the next floor, there's a large and varied bouldering area and some shorter autobelay and top rope climbing. Head to the top floor for some more great bouldering, a newly installed kilterboard and beautiful views over the forests of outer Oslo. For members of OSI Klatring, climbing here is free from 3:30pm on a Sunday! If you're tired after climbing, no worries, because there's a café at the reception selling excellent snacks, pastries and sandwiches, all of which I've tested personally. The things I do for journalism…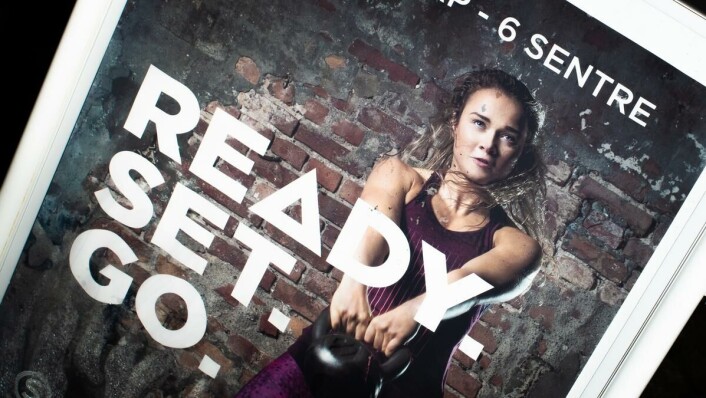 6. Athletica Blindern
Last but not least is Atheltica Blindern. Located on the UiO campus, it's easy to head there before or after a busy day of classes and studying. On the top floor, they have a bouldering room with routes set by members of the club, as well as a moonboard and some hangboards and campus holds. Although small, if you're already a member of Athletica, you won't need to pay extra to use the bouldering room! A great alternative if you just want a short session and don't feel like spending 100kr!
So there you have it, plenty of options for every sort of climbing you could imagine. Remember though, climbing inside is just training for climbing outside! So once the nice weather and warmth comes around, grab a mate and head out to one of the many outdoor spots around Oslo!