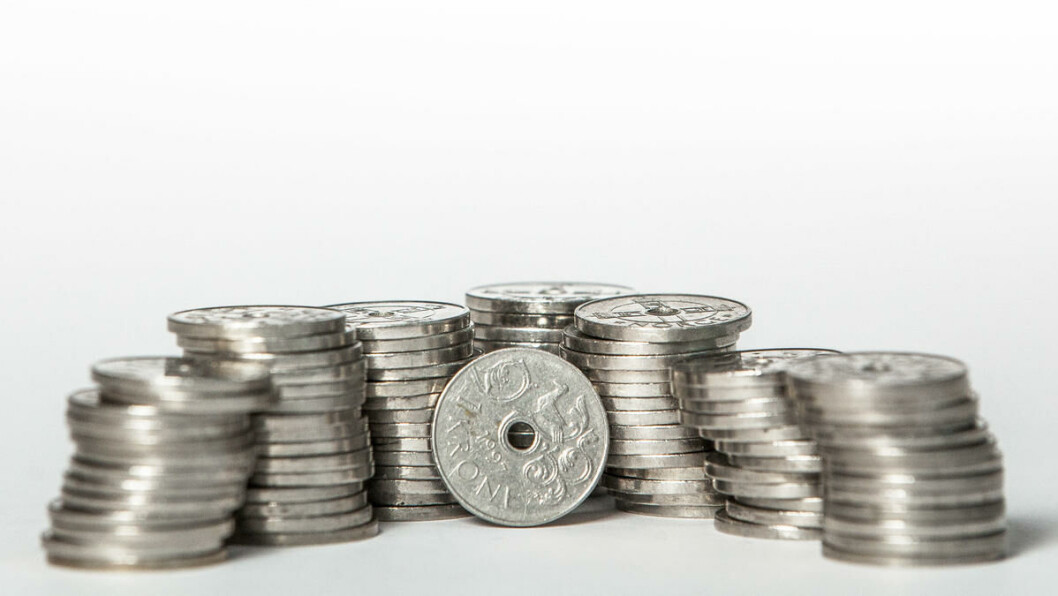 Everything you need to know to get the most out of your time in Oslo on a student budget
Even if you know before coming to Norway that the country is expensive, you still will feel the pain when looking at the price tags in supermarkets or bars.
Check the supermarket offers for the week
First of all, check our [supermarket guide](aa) for an overview of the most important supermarkets and their differences. Second, definitely check out the ads. Best and easiest way to do it is to use one of the few websites, which collect all the newest supermarket ads, so you can easily check the weekly offers without leaving the house. Most of them get updated latest by Monday, so maybe it's a good day to plan your weekly meals and snacks.
Supermarket member cards (Kiwi, Rema, Coop etc.)
If you get a Norwegian SIM card for your phone, you should also consider registering as a member of your favourite local supermarkets. This may safe you often up to 50 % on special products and also get you extra points, which you can later use on your food shopping. Pretty much all of the supermarket chains have their own membership program, so it`s up to you to decide, which ones you are going to use.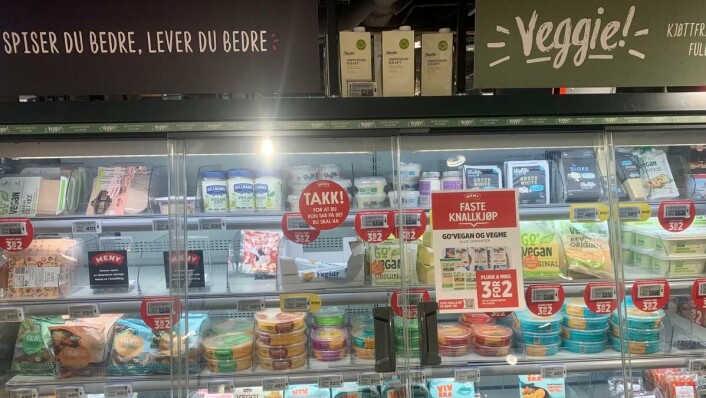 Kiwi card – get every 2nd package of menstrual and certain hygiene products (except First Price products) free
Even if you cannot or doesn't want to register with any of the membership programs where you need a Norwegian SIM card for, this one is super easy and available for literally everyone who is menstruating: at Kiwi, you'll be either asked from a cashier if you have that card when buying menstrual products, or you just ask yourself. Show the card that you get without any registration any time when you buy tampons or panty liners, and you get every 4th, and this year (2022) every 2nd product for free. Rema has a quite similar offer (50 % off every product), but you need to register to use it.
Shopping in Grønland
THE place to do your groceries, especially when it comes to veggies, fruits and spices or all kind of lentils. I definitely love this place and am always surprised how little I spend for a very decent amount of groceries. Grønland itself is a district East of the central station with a rich selection of international supermarkets, restaurants, cafés and shops.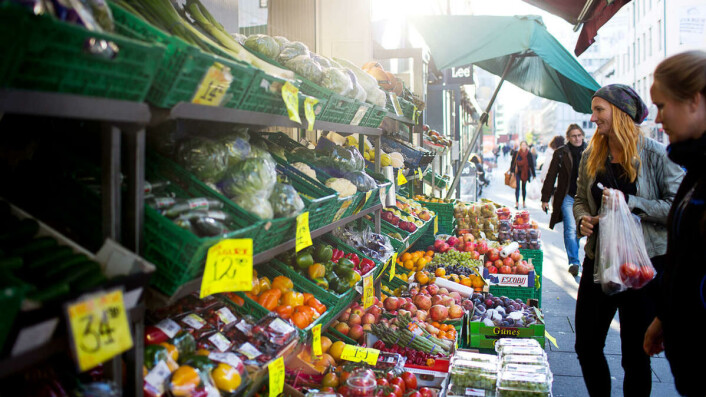 It`s of course always important to check the prices, but once you find your spots, you can save a LOT of money while maintaining a varied and balanced diet. But you also should definitely splurge once in a while on baklava or other oriental sweets – they are just worth it.
TooGoodToGo
You might already know TooGoodToGo from your home country as it`s an international app. The concept is easy – supermarkets, restaurants or bakeries or basically any company that sells food can register with the app and offer whatever they cannot sell on a particular day at a cheaper price. Usually, you buy a surprise bag, which means that you don't know and can't choose what you get. So, this tip doesn't work so well when you have any allergies or a particular diet, but for everyone else or when you are able to share with your flatmates this is the place to get really good food for usually very little money. Definitely try out several places, as the selection and amount may vary a lot. Install the app and choose your own favourites.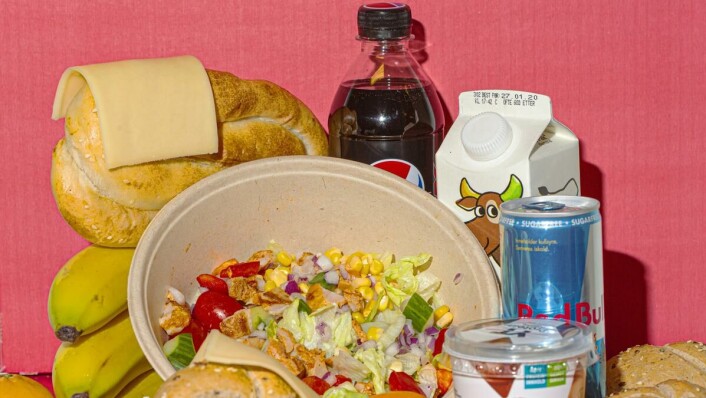 Splitwise – sharing meals with your flatmates
Cooking together is not just more fun and makes you get to know new recipes, but also helps the budget. To make it easy, we recommend getting an app like e. g. Splitwise where you can make groups with people and just enter whatever everyone spent on the groceries (or also trips, presents for your friends or whatever). The app makes it super easy to split whatever you spend on in different ways and always has an overview.
Holdbart
If you are into TooGoodToGo or know initiatives like Foodsharing in Germany, you may like this one too. The Holdbart stores are a bit outside of the central areas, so probably best if you have a friend with a car? But it's definitely also reachable with public transport. Holdbart is selling much cheaper products, which are about to go beyond the "best for" date. Some items may still be beyond what you usually spend on groceries depending on the brand, but especially if you are into plant-based diet and like e. g. oat milk or vegan meat substitutes, you may be able to save a lot of money there, as many products are just fine if you freeze them for another couple of weeks.
Affordable lunch & coffee dates in the city
Every now and then (almost) everyone, even being on a tight budget, enjoys having a coffee and a snack with friends in a café – quality time is important. While many coffee places easily break the bank just with the coffee itself, the Backstube chain with several bakery shops spread all over the city center and beyond offers a nice café atmosphere and very decent prices – you can get different kinds of coffee or hot chocolate at a range from around 20 to 30 NOK and a treat like a delicious croissant for around 17 NOK.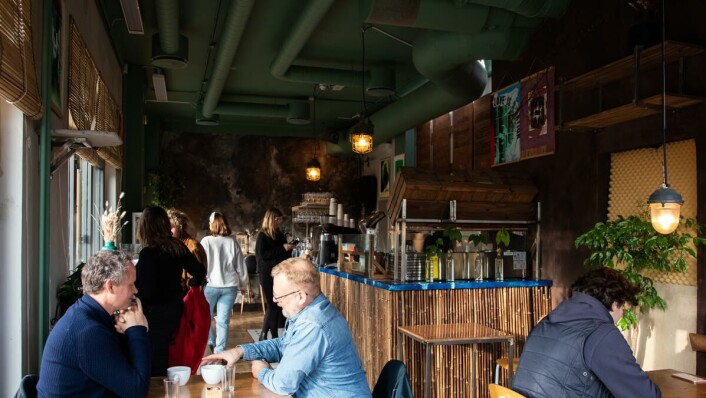 If you go for their veggie focaccia (29 NOK as of April 2022), you are even settled for a lunch. Even if you head over to a picnic or city walk with your friends, Backstube can be a good option to get snacks on the go. Or head over to Grønland – there you'll find bakeries with bread and pastries from all over the world, which will probably fit nicely into your budget and bring some variety.
Free tap water practically everywhere
If you have been living in Scandinavia most of your life, this is probably not a big thing at all, but coming from Germany I can tell you - it is! Not just in restaurants or cafés, but also in bars and concert venues there is always tap water available, which is amazing! Of course, you can still enjoy your cider or glass of beer, but there is nothing better than being able to have a glass of water after an energetic concert and in between of hours of dancing. P.S. And your head will thank you the next day, as well.
Second Hand shopping
Second hand shopping is not just sustainable and ideally economically smart, but also a lot of fun. Chasing those perfect items that have been waiting just for you is a great feeling. Oslo has many opportunities to shop for preloved items, you can find many stores in Grünerløkka, but also in other districts. For clothes, accessories and some decoration you can always check Fretex, which seems to be around so many corners, but also UFF or all the small little shops hiding in the streets of Oslo.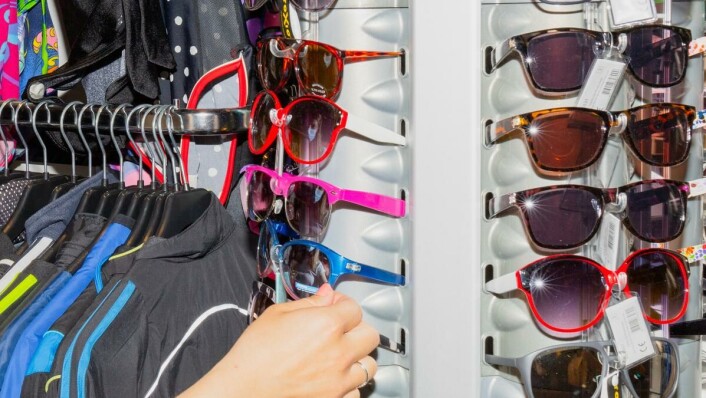 My personal favourite is M&E though. Their cloth selection is very nice in the newly opened store at Grensen in the city centre, however if you are looking for anything for your kitchen, lovely vintage decoration for your room, textiles, even outdoor equipment, but also books and vinyls and last but not least beautiful furniture, the store in Hasle is your place to go. Check the opening hours though, it's open only on certain days of the week. Another place to find treasures are school flea markets which are particularly active throughout the warmer season. You can find the dates online, but many schools advertise those also on banners around their area.
Use public transport for day trips to the islands
When living in Oslo, it's not necessary to go on a long trip to be surrounded by beautiful nature and the fjord. Get on a ferry from Aker Brygge and go to one of the islands, which are included in zone 1. As a student in Oslo, you are likely to have a public transport pass anyway, so no additional costs for the travelling. You can even camp for free and legally on Langøyene, so just grab your friends, some food, a tent and a sleeping bag and enjoy the next sunset in the middle of the fjord.
To be continued…