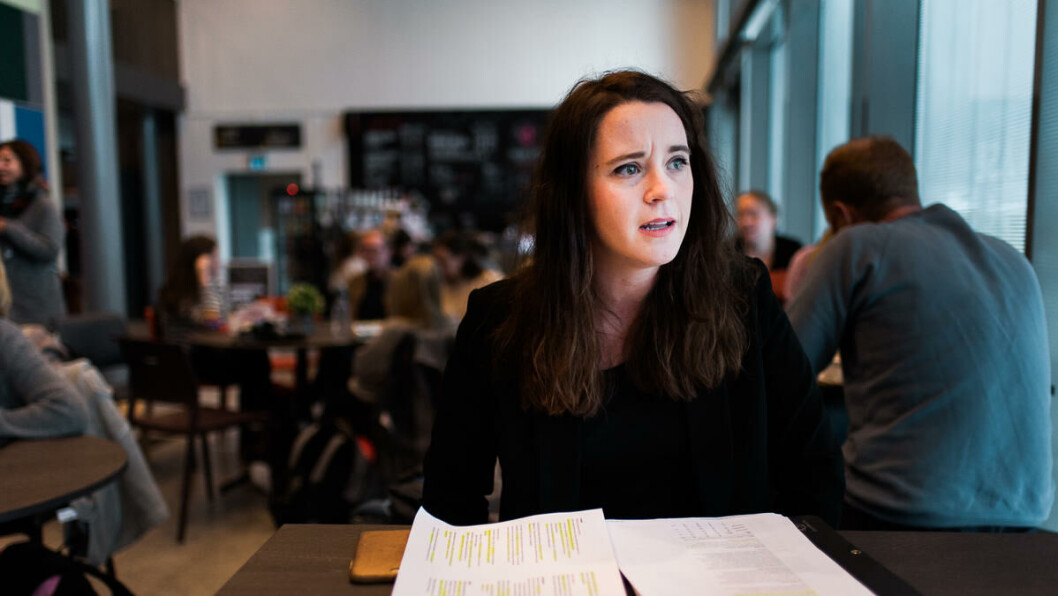 Medical students have no problem talking about bowel movements, but sex is still taboo
If tomorrow's doctors are going to talk with their patients about sex, today's medical students have to learn how, says Nantje Fischer.
Do you think it's awkward to talk with your doctor about sexual issues? Chances are your future doctor feels the same way.
A study from the Department of Psychology at UiO shows medical students balk at talking with their patients about sexual health.
«Most of them don't feel competent to diagnose, treat, or refer patients [in these cases],» said Nantje Fischer, who has researched the topic. The study was done in cooperation with Bente Træen, a professor in health psychology at UiO. Træen and Fischer first met in Træen's sexology class. Together they have interviewed 411 medical students from universities in Bergen, Trondheim, and Tromsø.
«We've also found that medical students feel they have very little confidence in their abilities when talking about non-traditional medical topics. For example, problems with sexual sensation, use of pornography, or sexual problems,» Fischer said.
Fischer says this lack of confidence is related to how little emphasis is put on sexual health in their education, and she says this is the case for both non-traditional and more traditional topics such as abortion, birth control, and sexually transmitted diseases.
«One finding I thought was surprising was the connection between how far the students were in their education, and whether they intended to talk about sexuality. The farther they got in their studies, the less they intended to talk about sexual health in their future medical practice,» she explained.
Medical students have to practice talking about sex
Nantje Fischer
Fischer pointed out that she does not have a full overview of the curriculum, but she suspects that questions about sexual health are seldom asked.
«If you don't learn about sexual topics, it's hard to feel comfortable,» she said.
Fischer and Træen found that neither gender nor engagement in the Physicians Sexual Information Network (Medisinernes seksualopplysning, or MSO) made a difference in whether students intended to talk with patients about sexual topics. Additionally, practical experience lowered the likelihood for open dialogue.
«The students who have had practical experience know how doctors' everyday routines are, and maybe they've experienced role models who don't talk about sexuality. There is a big fear of invading patients' privacy,» Fischer explained.
Still, she adds that doctors often talk about potentially uncomfortable topics with their patients.
«They can talk about bowel movements without blinking, but it's not the same with sexuality,» Fischer said, and added that it could have consequences for patients' quality of life and relationships.
«General health and sexuality are tightly connected, and can affect each other both positively and negatively. When someone doesn't get the sexual health help they need, it can be very difficult and painful for them,» Fischer said.
It may come as a surprise that sexual health is being left by the wayside, when sex is talked about more than ever. For the last few years NRK has covered non-traditional sexual issues, for example with both NRK3's «Embarrassing Illnesses», and the more recent «Line Deals With the Body», which aims to show «real sex.» Nevertheless, Fischer still thinks sexuality is difficult to discuss.
«I think sexuality is still taboo in the medical sector. That's problematic because so many sexual problems aren't caught, and can't be treated. At the same time, it's hard to know who to talk to; can I discuss this with my doctor, or is that inappropriate? Studies have shown that patients want to talk to their doctor about these topics. A positive and liberal attitude toward sexuality will really affect how much students talk about it in the future,» she said.
Additionally, Fischer thinks the vicious circle of awkwardness and discomfort between doctors and patients can only be broken if universities teach their students how.
«Medical students have to practice talking about sex. If they don't know how to talk about it, it's hard to know where to start once you're working as a doctor,» she said.