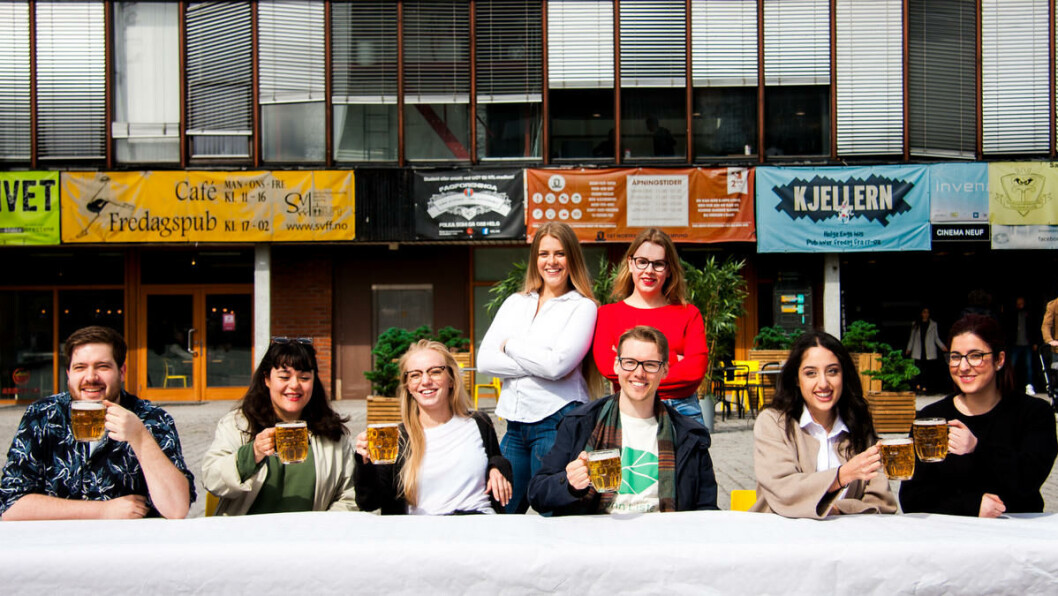 A guide to the UiO Student Parliament election
The election is at its peak, but what's all the fuss about? What even is the Student Parliament? How do you vote? And why? No need to worry, Inter Universitas has got you covered.

The student election is going in its full speed, but with an average student participation of 15 to 20 percent, it seems like a lot of students lack some knowledge of the importance (which is up for debate within some parties) to vote. That's why we're giving you a step-by-step guide to strengthen student democracy.
Read more: Student Parliament candidates cheer on internationalization
What is the Student Parliament and what do I have to do with it?
The Student Parliament at UiO conists of 35 different representatives, and five of them are elected students who work fulltime as ambassadors for the rest of the students. The students in the parliament are part of the executive committee and their job is to give the students a voice within the politics and media in Norway, and even on a global scale.
As a student in Norway, it's in all our interests to maintain a transparent democracy and build bridges between the politicians at Stortinget, the principals in the university and the different institutions and students. The Student Parliament is a tool for that.
There is an election once a year, and every student registered at the University of Oslo has the right to vote for whom they think will best represent their interests in the Student Parliament. And with an average student participation as 15 to 20 percent, as mentioned above, your vote can really make a true difference. Not to mention the importance to, of course, take action for a continuous student democracy.
Don't miss: Students demonstrate against increased visa fees
Okay, that sound like a legit reasons to use my right to vote. Who should I vote for?
In short, you have nine parties (or lists as some call it) to choose between. When you have chosen the party that suits your political view best, you can choose who you want to be the president. But more about the election process later.
The Labor Party are social democrats and use the labor party's ideals in their politics. The issues closest to their hearts are student welfare, equal opportunities, equality in academia, and an eco-friendly university.
During this election period the Conservatives want to end the food monopoly with SiO, they want to make the Exphil required courses on bachelor's level more relevant, they want a syllabus based on e-books, and to shed light in the Speak up-initiative.
The Guest List want to run student politics for students. They want a change in boring lectures, bad services on campus, and inconvenient study time. They also want Vinmonopol on Blindern, no exams 18 May, and IT-training for all teachers and professors at UiO, to mention a few.
The Green Party breaths environment and climate. They want to encourage greater involvement and student activity on campus, and push for an increased focus on sustainable and renewable research.
Internationalista is all about internationally oriented students in UiO. They believe an international learning environment is about sharing knowledge from different standpoints in order to come to a common understanding.
The Leftist Alliance is a feminist, anti-racist and socialistic student organization. They want more women in the syllabus, to bring in refugee students and include international students, increase the student support and create a greener UiO with more parks and city bikes.
The Liberals want student life to be more flexible. They want 24-hour study halls, podcasts of all lectures, new examination forms, to remove the SiO-monopoly, and ensure the student associations' opportunities for activity.
The Science Party has realistic priorities when trying to improve student life at UiO. They say that they know what's most important and that they get things done. They want more bicycles on campus, more digital exams, and more support for orientation buddy week to create a friendlier campus.
Finally, The Progress Party is the joker in this election. They want to [shut down the Student Parliament,](1) and get rid of unprofitable studies and the SiO monopoly, remove gender quotas and move the law exams to the city center.
Great, now I have a better picture of the parties and where I want to put my vote. But how?

1. Log on to https://valg.uio.no/index_en.html with your UiO username and password
2. The first thing you see is ongoing elections. Chose Student election 2018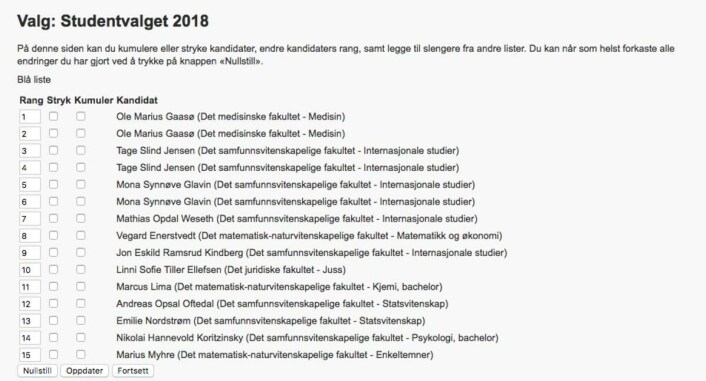 3. Chose the list you want to vote for
4. Chose the person you want to see as the president by changing the order of the numbers. If its someone you absolutely don't want to see in the Student Parliament, it's possible to remove them from the list here.
5. If you want a President from a different party, it's possible to give an extra vote for that person.
6. Deliver your vote.
And give yourself a high five for contributing to democracy at UiO.