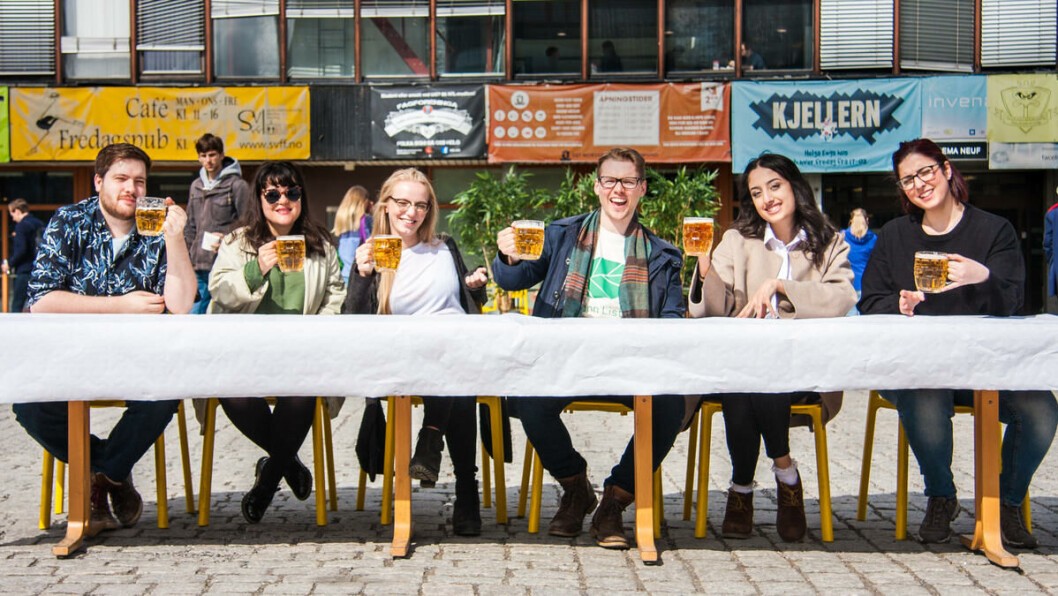 Student Parliament candidates want to shut down Akademika and have a bar at Fredrikkeplassen instead
A new pub on Fredrikkeplassen, crush the SiO monopoly, and scrap the entire Student Parliament. These issues both unite and split the student politicians.
A table covered with a white tablecloth stands in the middle of Fredrikkeplassen at Blindern. Around the table eager student politicians sit with a beer in hand. Their wish is to get Akademika off the premises and have it replaced it with a bar instead.
«There is a need to get to know new people. It would be great to have a place outside the student basements, especially for the international students since these environments are often quite internal.» says Marianna Khodabandehlou, leader of Internationalista.
Christen Andreas Wroldsen from the Green Party agrees it would be ideal to have a bar in close proximity to the student societies and faculties, rather than the having the closest pub be Chateau Neuf.
Seven out of the nine lparties are positive about the proposal of establishing a student-driven pub on the premises of what currently houses the bookstore, Akademika. One of the repeated arguments put forward by several of the candidates is the desire for a social arena on campus that has no affiliation to a specific field of study.
Prime location
Many also believe the premises in Kristian Ottosen's hus are simply too good for Akademika, and Wroldsen thinks the bookshop could easily be well placed elsewhere on campus.
He believes that with the completion of the new Life Sciences building, more space will open up the lower part of Blindern and sees no reason why Akademika shouldn't be able to move there. Marius Hillestad, leader of the Labor Party, is campaigning for a wider range of e-books, which in turn would also lessen the need of a large space for Akademika.
According to UiO, Akademika's lease is due to expire in late 2019, and is without a clause entitling extension.
Green, greener, greenest
A number of the parties have listed the environment as a standalone focus area, with their programs setting aims of being as green as possible. The Leftist Alliance, Science Party, Labor Party, and Green Party are all in favour of having green areas on campus, both inside and out. Science Party leader Kari Anne Andersen believes there is a lot of potential to work with.
«There are so many empty and unused areas inside the various buildings that can be turned into green spaces without it being so expensive,» she said.
Here Andersen is alluding to, among other things, the many buildings with atriums as potential sites for conversion into green spaces.
The Leftist Alliance's Johannes Saastad refers to the program's nifty slogan, «rather park than parking,» adding their wish to assess the least used parking spaces as most appropriate spaces for conversion. He sees this reduction of parking spaces, and therefore motorists, as a nudge that will send the world in the right direction.
Johan Hertzberg of the Progress Party, on the other hand, rolls his eyes over the whole proposal.
«The problem is that the Student Parliament has no authority to do anything like that,» he said.
He emphasizes that the Progress Party also wishes to welcome more green areas but is unsure whether the removal of parking spaces is the way to go. He also believes it is important to have a certain number of parking spaces on campus and points out the lack of action on having more green areas, a topic they have talked about for 10 years.
He concludes by saying that he is looking forward to getting rid of the student parliament, and officially firing the Leftist Alliance.
Bye, bye SiO monopoly
Earlier this year, several parties [criticized the monopoly held by SiO](1) on the food and beverage service at Blindern. Now, more parties are running this as one of the issues in their programs.
Among these are Guest List, Liberal Party, Conservative Party, and Progress Party. Leader of the Liberal Party, Amanda Haugnes Rygg, believes it's high time students get to exercise their consumer power on campus.
«We want private actors to be able to establish themselves on the campuses. First and foremost, it will lead to greater choices, but possibly make it cheaper for students to have lunch and dinner at their places of study as well,» she explained.
The Conservative Party is also eager for more commercial activity on campus. Together with the Guest List, however, they are the only ones opposed to the establishment of a student pub in Kristian Ottosen's hus.
«It's not that we're against having a bar there, but because we also want to open the premises for commercial operation. Demand should control what will be established, whether it's a bar or something else,» clarified Mona Glavin.