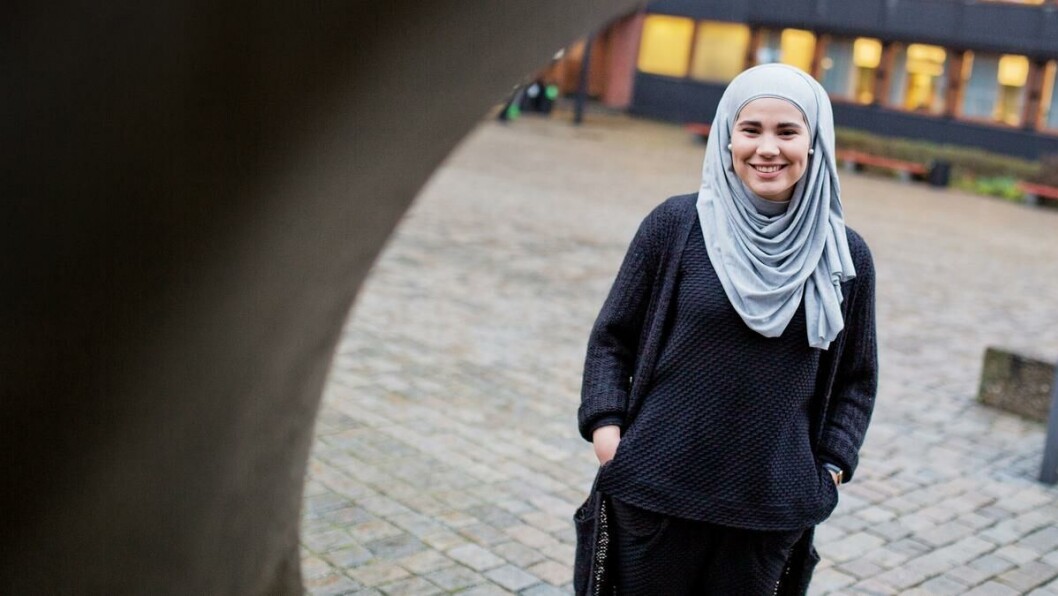 Sana from «Skam» about her faith: – I felt different
Student and actress Iman Meskini is not afraid to display her religious beliefs.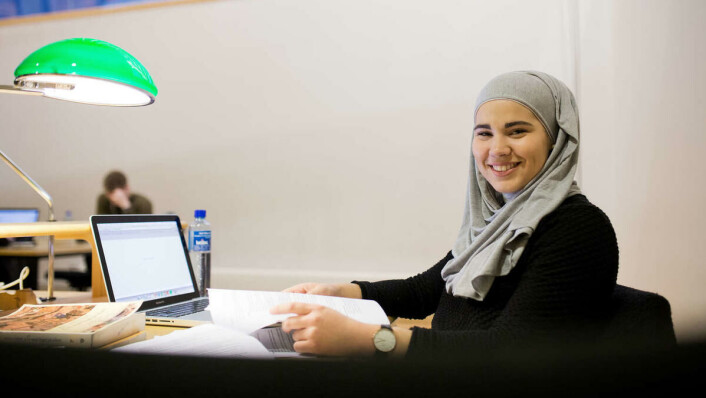 – I do not want to argue with science, but I do think there is something greater behind it all!
Iman Meskini (19) is not like other students. Not only does she play Sana in the TV show Skam and basketball in the elite division for women; she also believes in God.
Only one in five students claim to believe in a god, as showed in a recent poll conducted by Sentio for Universitas. Iman studies Arabic and Middle Eastern studies in the University of Oslo, and recognizes that there are not many others like her.
Norwegian version: – Jeg følte meg annerledes
– I am often asked «hello, how can you believe in a god, we live in 2016!» Norway is very secular, so those of us who believe are in a minority.
Still, she is not afraid to display her faith, and consciously uses her hijab.
– I want to use the hijab. Not only is it beautiful, it's also an icebreaker. Wearing the hijab makes it easier to get in touch with people. It shows that I belong to a religion which believes in a god, and then people assume that is a topic that interests me. If they also believe in a god, we automatically have something in common, she says.
Learnt about Islam from her mother
She randomly stumbled upon her study of choice after graduating from high school. As someone with a father from Tunisia and a Norwegian mother who converted to Islam at the age of twenty, religion has always interested her.
– I feel lucky to have grown up as a believer. My own mother has taught me and my siblings a lot about Islam growing up. In school, we learned almost only about Christianity and Western values and culture, which is why I chose this line of study. The Middle East has a fantastic history, and we also learn a lot about Islam, she says.
Iman's family still has a relaxed relationship with the religion, and she and her siblings got to choose whether they wanted to be Muslims or not by themselves. Iman stands by her choice, and visits a local mosque a couple of times a week.
– Our mosque is very diverse, with a lot of Muslims from countries all over the world. I learn a lot about Islam in the lectures there.
Did you know? University of Oslo will offer «SKAM» course
A modern kind of Islam
Iman is annoyed by how people do not separate culture from religion.
– It is very important to distinguish between these things. The fact that a lot of Muslims do a certain thing, does not mean that it has anything to do with Islam.
She thinks that the Quran encourages people to live as the prophet, without having to live just like he did.
– If that were the case, we'd have to ride around on camels. The Quran cannot be interpreted that literally, we must place it in a relevant context, Iman says before adding:
– Islam talks about balance. No one can be perfect. Your relationship to God is something between just you and God. Islam can be interpreted in different ways, and I am a very big fan of my mother's interpretation. She is my role model. She tries to use examples from the Quran in a modern sense. Instead of trying to go back to the prophet's time, we must place the Quran in a contemporary context.
Role model
Following her role in Skam, Iman has become a role model for many Muslim girls. She thinks that's a good thing.
– It's very cool, and it's a lot of the reason why I took the role as Sana in Skam. My upbringing was quite like Sana's. I grew up in Kolbotn, and I were one of few people who were Muslim or just not ethnically Norwegian. I still felt rather confident in myself, as I had my siblings and my mother who also wore a hijab. But I did experience how it is to feel different.
Iman thinks there are too few Muslim girls on TV wearing a hijab, and thinks it's great that there is a role like that in Skam.
– And I think Sana is cool, but she is not me! She is a written character, after all. Recently I have received more comments on who I am as a person, and not just the role as Sana. Getting comments from young Muslim girls that I am a role model to them warms my heart.
– Religion can come back
Even though there are few students believing in god, professor Hallgeir Elstad still believes that religion can make a comeback.
– Culture used to be more permeated by Christianity and tradition, but you don't get the same kind of «help» from culture today. The Western culture is getting more and more secularized, but Muslims and others are making their religion more visible. There is a lot of discussion today revolving around Islam, amongst other things.
The professor from the theological faculty is not surprised by the low number of religious students. He believes there are several factors explaining why «just» 22 percent of students believe in a god.
– It clearly depends on which subject you study, but traditionally people are more critical to religion and God in a scientific setting. The last few decades these tendencies have been enhanced, and we also discuss religion a lot in academia. It's an expression for a clear, general culture of secularization in our culture, Elstad says.
The professor still believes religiosity has become more visible the last few years. A greater interest to discuss religion makes him believe in the comeback of religion.