— Have had enough
Sexual harassment in the United Kingdom is a human rights crisis, according to a UN-employee. Now students are taking measures to ensure their own safety.
The report presented bleak numbers for women's trust in the country's justice system:
# 95 percent said they haven't reported cases of sexual harassment
# 55 percent said that the reason was that they thought the incident wasn't serious enough
# 45 percent said the reason was that it wouldn't have changed anything
# 24 percent believed it would help if more female officers worked on the cases
33-year-old Sarah Everard was walking on that fateful night in March. It was 9 o'clock, and she was on her way home from a friend's. Wearing colourful clothes, she passed several surveillance cameras on her way. She was talking to her boyfriend over the phone. They arranged to meet the day after.
That never happened.
When Everard didn't show up at the time they had agreed upon, her boyfriend contacted the police. A week later, the incident was investigated as kidnapping. The day after, her remains were found in a bag. The police officer Wayne Couzens is now charged with kidnapping and murder.
Following the murder, hundreds of women in the nation have taken to the streets. Many demand better solutions from the top. Politicians warn of stricter punishment in cases where women are subjected to violence. At the same time, students are taking measures themselves in order to feel safe.
Weakens trust
When 19-year-old Rowan heard of the murder, she was angry and uneasy.
— Especially when I heard she was killed by a police officer – a service we are supposed to trust, but that has regularly disappointed victims of sexual harassment.
She has experienced multiple unwanted incidents herself. Since she hasn't told her family about it, she asks that only her first name is used.
Rowan is studying literature at the University of Cardiff. To show her support, she participated in a vigil in a local park. Several groups of women were present. Some stood in silence, while others laid down flowers, poems and signs.
— It was very nice, but heart-breaking to see. I'm just glad that it was respected, Rowan says.
That was not the case everywhere.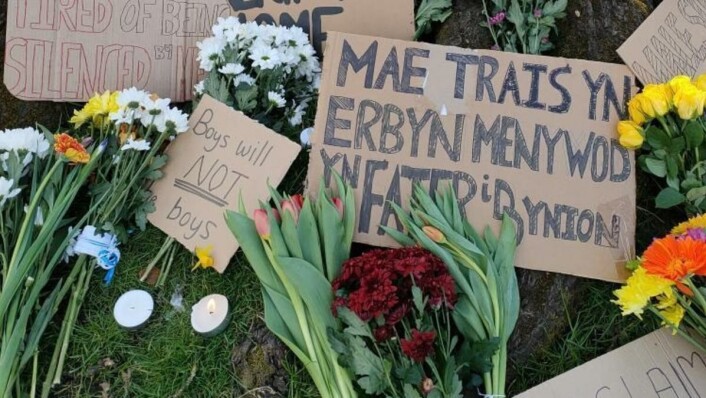 — Have had enough
In London, hundreds met for demonstrations on the 16th of March outside of the Parliament and the offices of Scotland Yard. Photos from the demonstrations show young women being handcuffed by the police.
The police's handling of the protestors was met with criticism. The police said the demonstrations were illegal, since they broke the strong corona restrictions in the capital.
A month later, the debate around violence against women in England continues. At universities, students are discussing the problem amongst themselves, Rowan says.
— As far as I know, all the discussions have been between the students. I don't think the staff has reached out about the situation, and I haven't seen anything on social media from our university either, she says.
All students have the right to an education without feeling threatened by sexual harassment
Jess Phillips, politician to the Independent
Generally, students are advised to use GPS apps to let their friends see where they are, according to Rowan. Several people she knows avoid using such apps after hearing stories of kidnapping as a result of leaked data.
— We are also advised to use public transport, even though this is not always available to us. I wouldn't say the measures are exactly productive, the Cardiff student continues.
Rowan thinks there are several reasons for why the case has gotten such great attention at the university.
— The lockdown may be part of it, some people might have more time to engage in news because they are paying more attention. But I definitely think many women have just had enough. Myself included.
«A human rights crisis»
86 percent of young women in the age group 18 to 24 in the United Kingdom have experienced sexual harassment in public spaces. Only three percent said they hadn't experienced any type of sexual harassment. This was described in a UN-report that was made public in March.
The Executive Director of UN Women UK, Claire Barnett, has labelled the conditions a «human rights crisis».
— It's no longer enough to say that this problem is too hard to solve, it must be dealt with now, she said in connection with the report.
— We're looking at a situation where young women constantly adjust their behaviour in an attempt to avoid objectification or attacks.
— Small and pathetic
19-year-old Rowan says she is part of the bleak statistic. Over the phone, she lists a number of unwanted incidents:
— Before the pandemic broke out, a man grabbed my breasts at a club, completely out of the blue, while I was dancing alone. My friends had gone to the bathroom, and in the moment I felt it was safe to be alone on the dancefloor. It was a mistake, she says.
According to Rowan, it is not unusual that men whistle at her when she's out running. Or «stare aggressively» at her breasts or her butt. Or shout things such as «sexy» and «I'd fuck your brains out» while she's walking alone.
— It makes you feel small and pathetic. I felt gross and pretty unsafe. I told several of my friends about it, but wasn't aware until recently that you could report such things.
After she wrote about the incident in a Facebook group to warn other students, one of the members reached out. She told Rowan that she could call the police and press charges after such incidents.
— I definitely think there should be more awareness around this, Rowan says.
It makes you feel small and pathetic. I felt gross and pretty unsafe
Rowan (19), student at the University of Cardiff
Politicians engaged
She's not the only one. Thousands of young women have shared their stories on the website «Everyone's Invited». The website was created last year as a sanctuary where victims, mainly the younger demographic, could share incidents of sexual harassment.
Since Everard's murder, the website has received thousands of inquiries. Now many ask for action from the top. One of them is Jess Phillips, member of Parliament and spokesperson for violence in the home and safety.
— The government has known about the extent of sexual harassment and abuse at schools and universities for years, without having done anything to deal with the problem, she said to the newspaper The Independent in March.
— All students have the right to an education without feeling threatened by sexual harassment.
Sarah Everard's murder has gotten many politicians to speak out about violence against women. Multiple members of Parliament have labelled the problem as an epidemic. The Mayor of London, Sadiq Khan, has spoken about the capital's streets not being safe for young women.
Last week, Keir Starmer, leader of the Labour party, presented a new bill. It is there argued for implementing stricter punishment for sexual harassment. If it is successful, it can become punishable to bother women in the streets. Stricter punishment for «stalkers» and rapists is suggested, in addition to life imprisonment for kidnapping and sexual violence.
The legislative changes will be voted over in Parliament in the end of April. In the meantime, students are taking measures to ensure their own safety.
Own measures
After Sarah Everard's murder, a classmate of Rowan started the Facebook group «Women Walking Home». There, women can get help to ensure they get home safe.
Rowan herself takes safety measures when she's walking home alone.
— Unless I'm walking with my boyfriend, she says.
Rowan also has her keys ready to defend herself and always tries to talk to friends on the phone when she's walking alone.
— If I'm going to experience stuff like this in my daily life, I can't let it stop me from doing the things I want. But it's a shame that it disturbs.